Are you having trouble getting a wheelchair in and out of your car? What about carrying it upstairs or downstairs? Even 'lightweight' wheelchairs can be a struggle to move around. Do you need an affordable solution that can make lifting a wheelchair easier?
A transport chair might be just what you're looking for.
What is a Transport Chair?
A transport chair is a wheelchair with small back wheels. A person in a transport chair is unable to self-propel, however, the loss of the big back wheels cut the weight of the chair in half. Even 'lightweight' wheelchairs with spoked back wheels weigh in at around 25 lbs.—a basic transport chair weighs around 15 lbs.
Transport chairs are named because they allow the 'transport' of users. Looking at how most transport chairs fold it is almost enough to convince me that transport is short for transportable. Aside from being extremely light, transport chairs also fold at the handles, making them easy to store and travel with.
What are Transport Chairs Used For?
Transport chairs were originally used for patient transport at hospitals and medical facilities. Once people realized how lightweight and easy to use they were, transport chairs became an integral piece of home medical equipment.
Transport chairs help people keep independence. Instead of having to ask for assistance whenever a wheelchair needs to be taken in or pulled out of a trunk, transport chairs can be moved by most people. Transport chairs that are folded into their more compact, 'transportable' shape have an even weight distribution, making them easier to lift.
If you are taking an elderly or disabled family member to an event that requires a lot of walking, transport chairs are a great solution. Self-propelling can be slow and outdoor events are not the best places to get stuck. Having a lightweight chair will help keep everyone at the same pace.
Will a Transport Chair Work for Me?
First off: Remember, you can't self-propel in a transport chair. If you are looking for a lightweight, full-time wheelchair, a transport chair is NOT for you. Traditional wheelchairs are the way to go if you are in a chair all day.
Transport chairs are perfect for those who can't self-propel. If you have a family member that has a lot of appointments to make but is unable to use a wheelchair, a transport chair is a great option. The weight of transport chairs allows just about anyone to carry them—you don't have to worry about a strong family member being around to take your mom or dad to an appointment.
If you are looking for a short-term rental option, a transport chair could be the perfect choice. In situations where you only need to transport once or twice a month, transport chair rentals are a great solution. Transport chair rentals are cheaper than wheelchair rentals, so for 'once-a-month' situations, you can save money and not have to drag a heavy wheelchair around.
Are there Options for Transport Chairs?
There are! Transport chairs come in the 'standard' wheelchair sizes. These sizes include seat widths of 16"-24". Heavy duty options include larger wheels (12" instead of the standard 8"), reinforced handles, and extra padded seats.
Deluxe transport chair options are also available. Deluxe options include swing away or detachable arms, rubber wheels (plastic wheels are default), and travel bags.
Every chair model comes with standard adjustable leg rests, a seat belt, and locking brakes. Every brand has a different feel, so if you or a family member is going to use a transport chair regularly remember to try before you buy!
Talk to one of Our Medical Equipment Experts
Our Medical Equipment Showroom team members have been trained to use every transport chair we stock. If you want to see a transport chair in action, you have to stop by and see what we have available.
Do you have more questions? Don't hesitate to give us a call or shoot us an email. We are open 7 days a week, so if you are in the area you can drop by anytime!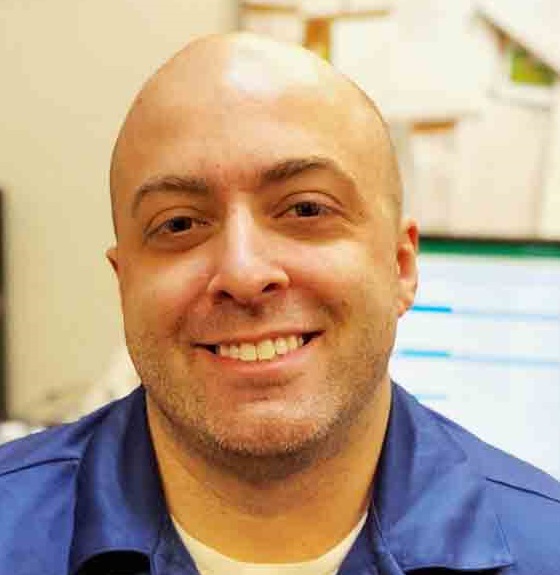 Wil has been working for Oswald's since 1994. A 6th generation member of the Wickel-Oswald-Kester-Anderson family, Wil focuses on web development, inventory, and sales.
With over 10 years of experience selling durable and home medical equipment, Wil is an expert on helping people find what they need to use after major surgery or an accident.
Wil graduated with a BA in English Literature from Knox College in 2008, minoring in History.
A graduate of Naperville North High School in 2004, Wil is a lifelong Naperville resident and is currently a columnist for Positively Naperville.