Purchasing medical equipment can be a big chore. Choices are endless, brands blend into one another, and online mega-retailers don't offer much direction. What many of these online mega-retailers could use is a showroom.
Thankfully, our showroom is home to hundreds of wheelchairs, rollators, power lift recliners, mobility scooters, bathroom safety equipment products, aids to daily living and more. We are conveniently located in Naperville and are always stocked with all types of medical equipment and accessories. If you have mobility needs, you need to stop by the store and see what we can do for you.  
Mobility Scooters and Power Chairs
We have over a dozen power mobility scooter options on our showroom floor. Ranging from standard 3-wheel and 4-wheel models to higher-end options (like a motorcycle), there is an option for every budget.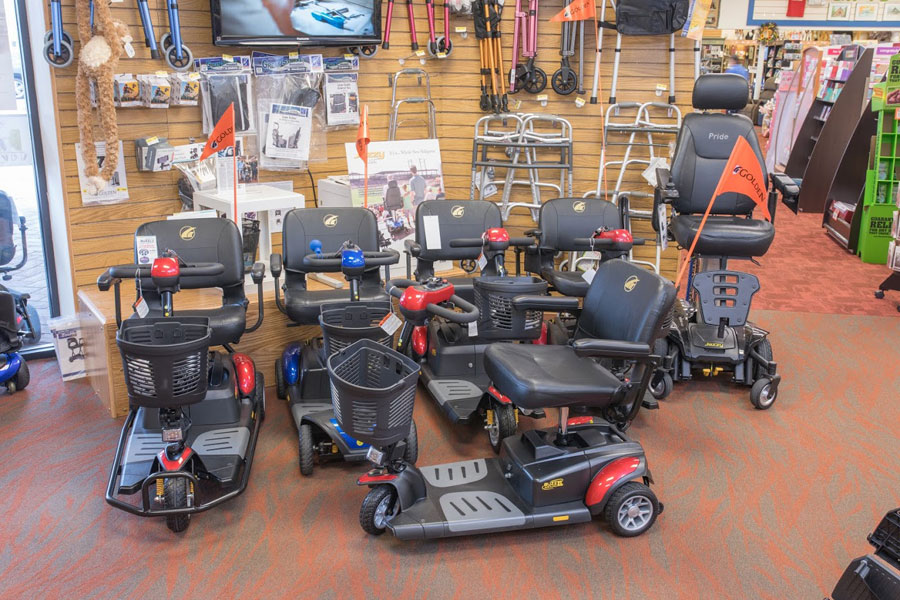 On top of our mobility scooter inventory, we also have 'cash' power chairs in stock. A 'cash' power chair is an 'affordable' power chair; power chairs can cost tens of thousands of dollars, so those with temporary needs or those with budget restraints (insurance or otherwise) can have trouble finding an affordable mobility solution. We keep dozens of models in stock so you can try before you buy!
We also have power mobility accessories you may need, including items like ramps, seat cushions, cup holders and more in stock.
Power Lift Recliners
Lift chairs are one of the most important medical equipment products to try before you buy. This is why we keep over 2 dozen power lift recliners on our floor. You can come in 7 days a week and try every model with every type of cushioning on the spot (no appointment needed).
We stock 2-position, 3-position, and infinite position chairs, with many different material and color options. If you want a chair with a fabric option we don't have in stock, we can take care of the entire ordering and delivery process for you. Our employees are trained to help you find the best chair for your needs.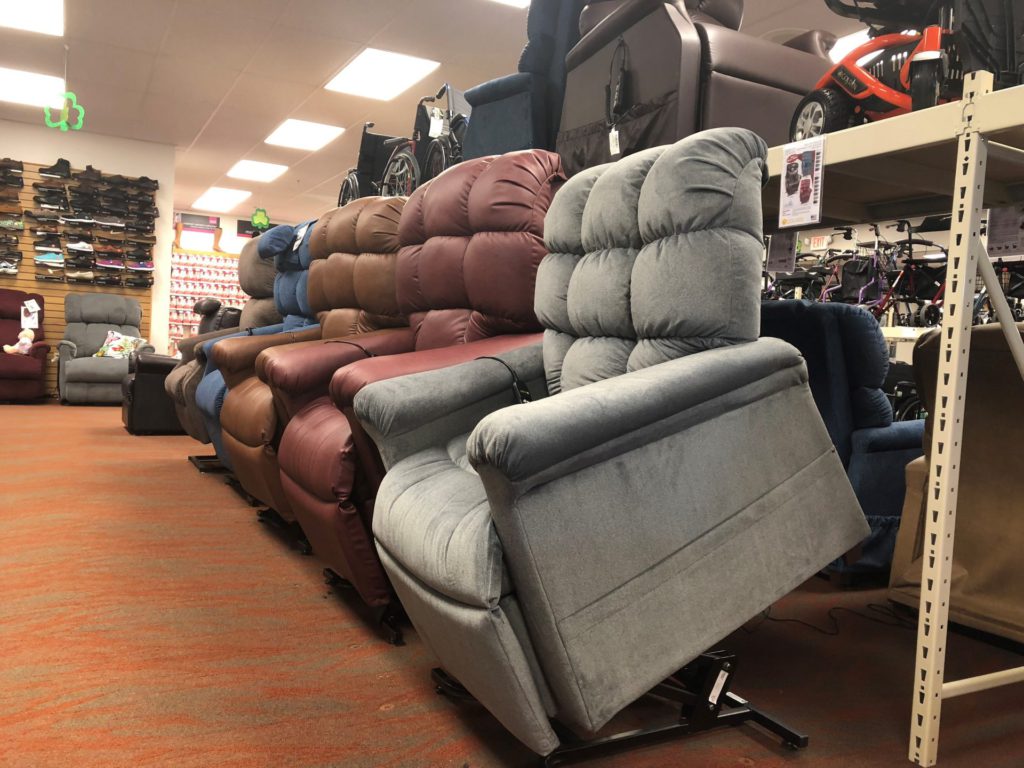 Our lift chair accessories include TV trays, head pillows, couch canes, protective pads and more. Many of these products are out and ready to be demoed to anyone who wants to see them in action.
Walkers and Rollators
Our selection of walkers and rollators is extensive and we carry a number of accessories to match. We have over two dozen walker and rollator options on our medical equipment showroom floor. Dozens of color options, folding style options, seat heights, lightweight options, heavy-duty models and more.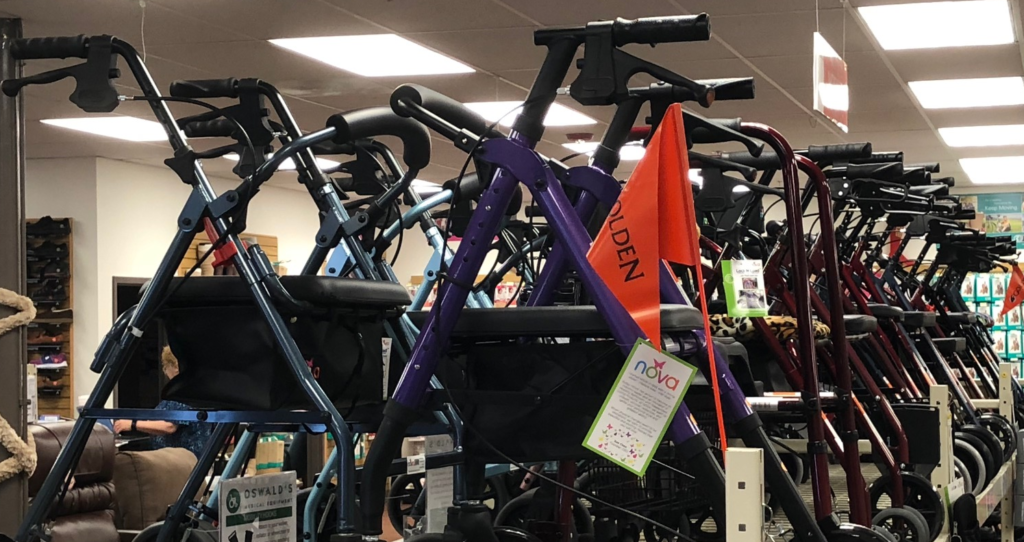 Accessories for walkers and rollators include bags, cup holders, glide skis, seat covers and much, much more.
Wheelchairs and Transport Chairs
Our large wheelchair and transport chair selection is ready for you to test drive. Ranging from children's wheelchairs to heavy duty wheelchairs, we can accommodate most needs. Lightweight and options with superior comfort are available if you are looking for a bit more from your wheelchair.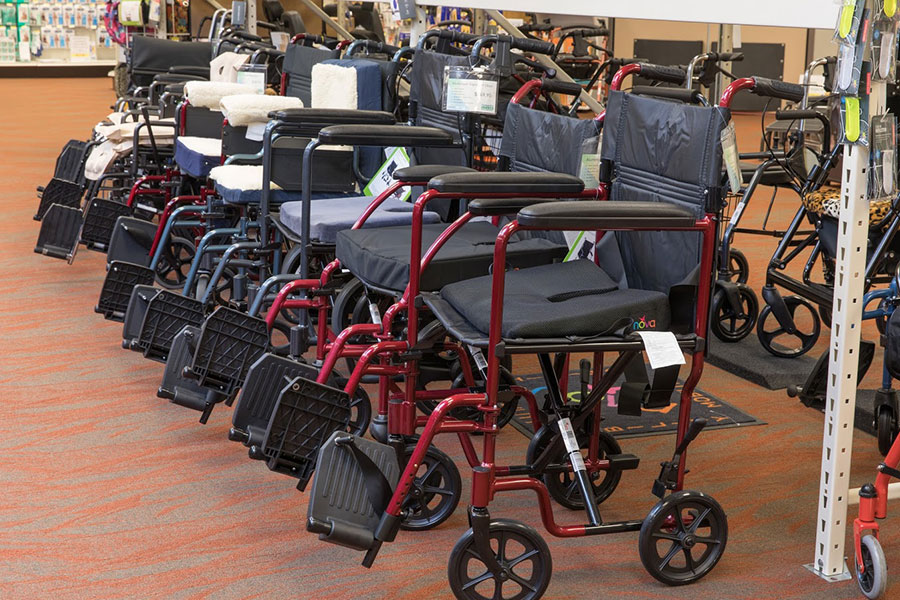 The transport chair selection matches its wheelchair counterpart. Options for small or large people, options for comfort, options for travel are some of the most popular types of transport wheelchairs we have on our showroom floor.
Stop By Anytime!
By now you should know what we emphasize here at Oswald's… Try before you buy! Open 7 days a week and always staffed by trained team members, we can get you the product you need quickly. If you have just recently started looking at medical equipment, but don't know where to go or who to trust for good information, please email us or give us a call. We will help you get your life back on track and up to speed!
Oh… did I mention we rent medical equipment as well? Check out our available products today if you have a temporary need.