Local Deliveries & Curbside Pickup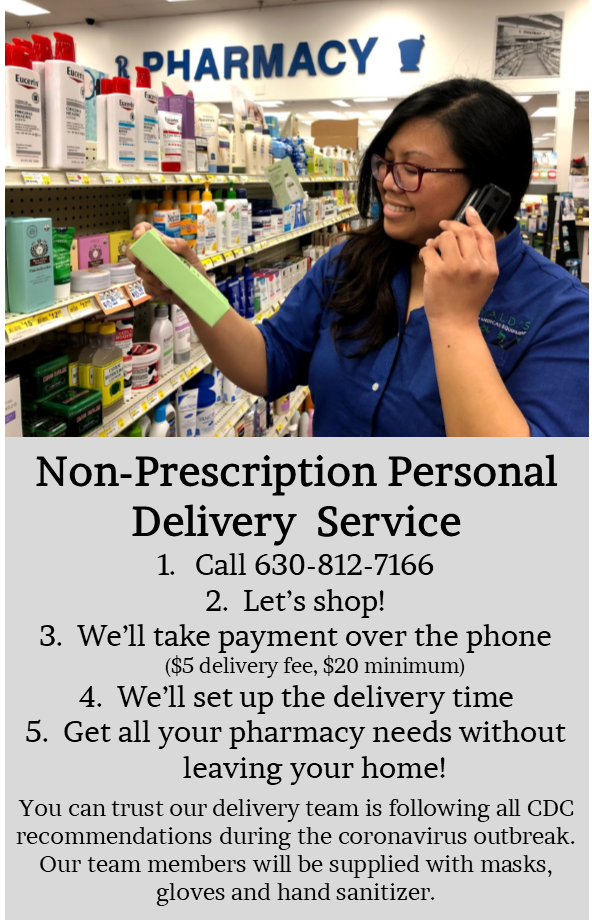 FREE Deliveries 7 Days A Week to our Naperville Prescription Customers!
FREE Naperville Deliveries for Seniors
We've had a lot of questions lately about "senior hours". With current recommendations to shelter in place, we're opting to bring Oswald's to your door!
While we've always offered free prescription delivery, we're now offering free delivery of non-prescription items to our customers 65+! Call now and tell us what you need.
Curbside Pickup Available Now!
If you are in the area and don't want to come in the store we can run an order out to your car for you! Give us a call, tell us what you need, pay over the phone with your credit card and give us a call when you're outside. That's it!
Oswald's Delivers RX and OTC Orders to Naperville.
Not a prescription customer? Want to transfer your prescriptions to Oswald's? Click here to learn how!
Delivery During Coronavirus Quarantines
As always, free prescription deliveries to Naperville will continue. A small fee will be charged for non-prescription customer deliveries.
We are still offering free deliveries to our prescription customers Monday-Friday. This includes prescription and non-prescription items to customers in Naperville.
We also offer deliveries to non-prescription customers for purchases over $20 for a $5 delivery charge. For prescription customers ordering non-prescription items there is also a $5 delivery fee.
Deliveries go out in the afternoon between 1-4 pm. If a time outside that window is needed, please call in the morning for special arrangements.
For non-prescription deliveries, call our personal shopping number at 630-812-7166. A team member will assist you in putting together your purchase and scheduling a delivery.
For pharmacy delivery questions, or to transfer your prescriptions to Oswald's, call our pharmacy direct at 630-355-2500
Our delivery drivers will be following all CDC Guidelines to protect themselves and our customers.
Our delivery drivers have access to gloves, wipes, shoe covers, and hand sanitizer, in case a certain delivery calls for extra caution.
Please let our team members know if you have any special delivery requests. Unless a signature is needed, we'll drop the delivery at your door, ring your doorbell, and wait 6-10 feet away from the door for you to pick up your package.