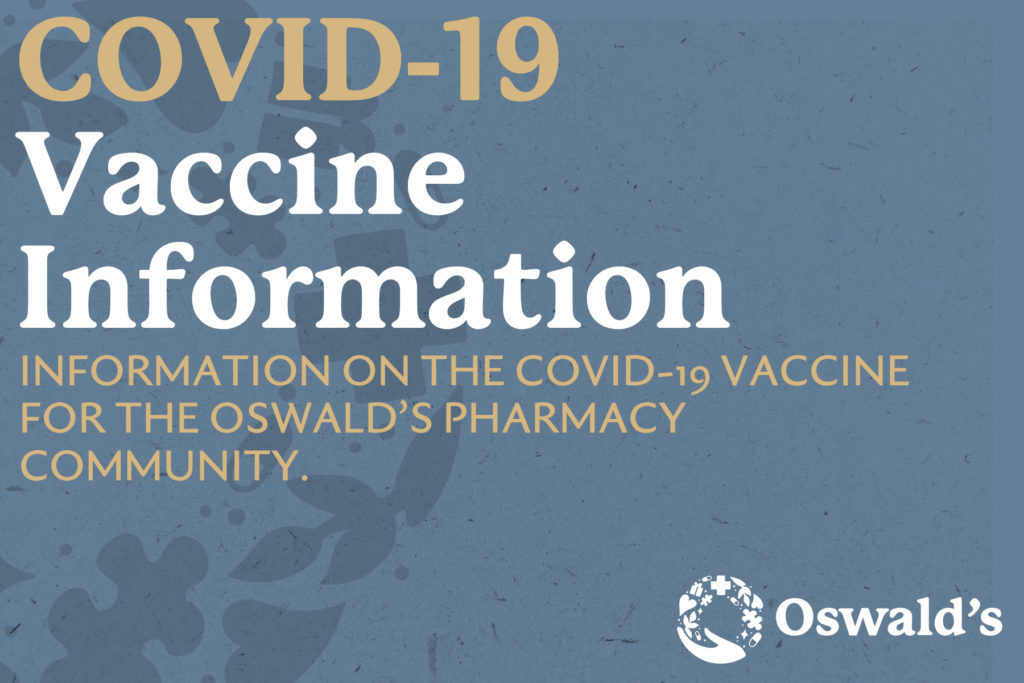 COVID-19 Vaccine at Oswald's Pharmacy
Last Update: April 11, 2021
*** Appointments for 04/07-4/12/2021 available online at these links: Moderna (30 appointments), Moderna (70 appointments), Johnson & Johnson (100 appointments) *** These are usually booked quickly. Check back often for cancellations. ***
To be placed on our vaccine backup list if someone misses a dose, please fill out this questionnaire for  by clicking here.
When we receive the vaccine, an email will go out to the below email list (make sure to sign up!) to notify you to sign up for available appointments. Due to the overwhelming response, we're unable to schedule appointments in person or over the phone. You must sign up online when available. If you know any seniors without computer access, please help them sign up for the program, or put them in touch with the Vaccine Buddy program. Learn more here, or by calling Jim Hill at (630) 640-0804 to be paired up with a Vaccination Buddy through a new program offered by Naperville and Lisle Townships TRIAD and the Naperville Senior Task Force.
Illinois is currently in Phase 1B+ of the COVID-19 vaccine rollout. DuPage County is in Phase 1B+.

Click here for more information on the IL COVID-19 Vaccine rollout plan.
COVID-19 Vaccine FAQ
When can I get my COVID-19 vaccine from Oswald's Pharmacy?
Illinois state and county health departments are determining individuals' eligibility to receive the vaccine according to the Illinois COVID-19 Vaccination Plan. Dupage County is currently in Phase 1B+ of the plan, which includes healthcare providers, residents of long-term care facilities, people with disabilities, and those with high-risk medical conditions age 16-64. Oswald's Pharmacy will be using an appointment-based model and administering vaccines either through our federal contract with Health Mart Pharmacies Group and the CDC or during Phase 2 or through our direct relationships with the DuPage County Health Department and the Illinois Department of Public Health during Phase 1B+. Check this page frequently for updates on when Oswald's Pharmacy will have the vaccine.
Will my COVID-19 vaccine be free?
According to the CDC's website, the vaccine will be provided to patients at no cost. This does not take into account any vaccine administration fees that healthcare providers may charge. This fee will generally be covered by a patient's insurance company or by the Health Resources and Services Administration Provider Relief Fund for those who do not have insurance.
Which COVID-19 vaccine will I get? How do the vaccines work?
Unfortunately, we do not yet know which vaccine Oswald's Pharmacy will be getting. There are currently 3 vaccines that are available for Emergency Use Authorization in the United States: the Pfizer-BioNTech COVID-19 vaccine, the Moderna COVID-19 vaccine and the Janssen (Johnson & Johnson) Vaccine. Other vaccines are under development or in clinical trials before they can be granted Emergency Use Authorization in the United States.
There are currently 3 different types of COVID-19 vaccines that are in various stages of development or use: mRNA, protein subunit, and vector vaccines. Each type of vaccine works differently, but all are able to recognize and protect people from COVID-19. Both the Pfizer-BioNTech and the Moderna vaccine use mRNA technology. The CDC has more information on how these vaccines work available here.
What allergies will prevent me from getting the COVID-19 vaccines?
Right now, we know that the vaccines should not be administered to anyone who has a known history of a severe allergic reaction (such as anaphylaxis) including:
severe allergic reaction (e.g., anaphylaxis) after a previous dose of an mRNA COVID-19 vaccine or any of its components
immediate allergic reaction of any severity to a previous dose of an mRNA COVID-19 vaccine or any of its components (including polyethylene glycol [PEG])*
immediate allergic reaction of any severity to polysorbate (due to potential cross-reactive hypersensitivity with the vaccine ingredient PEG)*
Components of the Moderna, Pfizer-BioNTech and Janssen (Johnson & Johnson) COVID-19 vaccines are found on their package inserts. Neither of these vaccines contains any preservative or mercury in any form.
Here is some information about what each of the components in a vaccine does.
What are the side effects of the COVID-19 vaccines?
According to the CDC and the FDA, side effects (also called adverse reactions) are usually mild to moderate and resolve within just a few days. The most common side effects reported after the vaccines include:
Pain, swelling, and/or redness at the injection site
Fatigue
Headache
Muscle or joint pain
Chills
Fever
Swollen lymph nodes
COVID-19 Vaccine in Illinois
Oswald's Pharmacy has partnered with the federal government to administer the COVID-19 vaccine during Phase 2 when the vaccine becomes widely available to the general public sometime in 2021. Patients will not be required to pay anything in order to receive the vaccine. Each person will need 2 doses spread out over a few weeks. It is important to receive both the first and second doses of the vaccine because there is not enough data regarding a single dose's efficacy or duration of protectiveness.
As of  March 26, 2021, there are now 3 vaccines with FDA EUA approval. The Pfizer vaccine has been granted Emergency Use Authorization for use in children and adults aged 16 years and older, whereas the Moderna vaccine is authorized in adults 18 years and older. The Janssen vaccine is approved for adults 18 years and older as well. Vaccine administration and distribution are currently in Phase 1B+ of Illinois' COVID-19 Vaccination Plan. People eligible to receive the vaccine include healthcare personnel and long-term care residents. Below is a table from the plan showing the populations eligible for vaccination in each phase.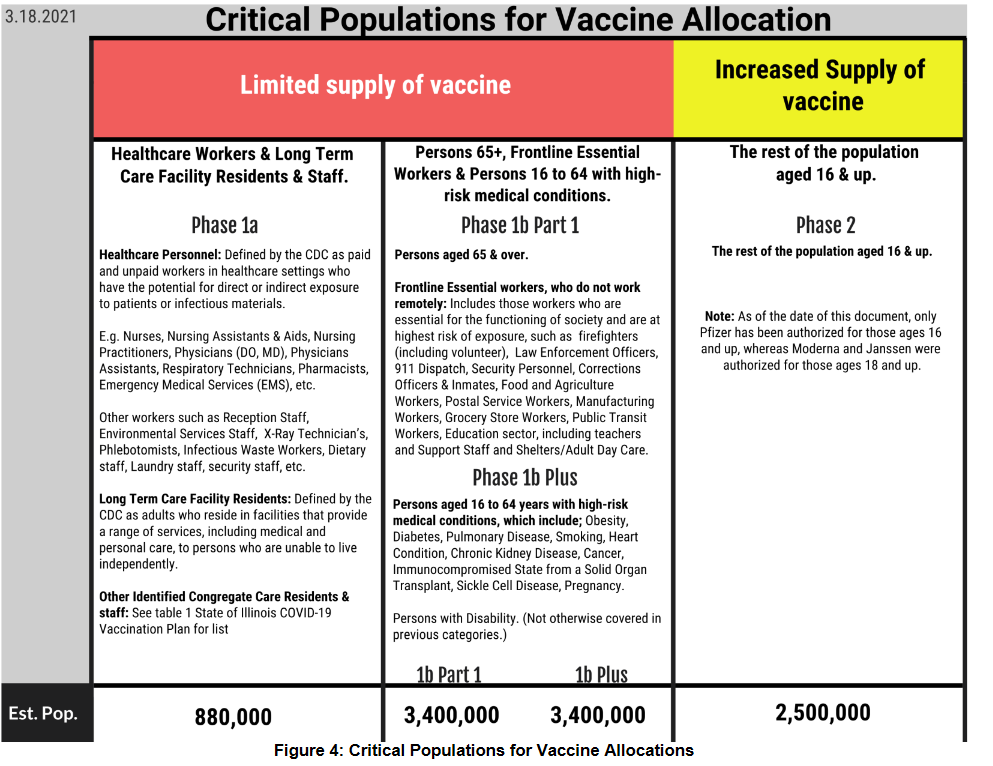 Graph taken from the IDPH COVID-19 Vaccination Plan Updated 3.22.21
We will continue to update this page as we get more information on when and how you can get the vaccine.
When the vaccine becomes available at Oswald's Pharmacy, we will be administering the vaccines to the appropriate population for each phase via appointment only. More information on how and when to sign up for an appointment will become available at a later date. Please note that walk-ins will not be accepted.
In the meantime, Oswald's will continue offering COVID-19 testing and other vaccinations like the flu and shingles shots.
Further COVID-19 Vaccine Resources
CDC COVID-19 Vaccine Information
Illinois Department of Public Health COVID-19 Vaccine Information