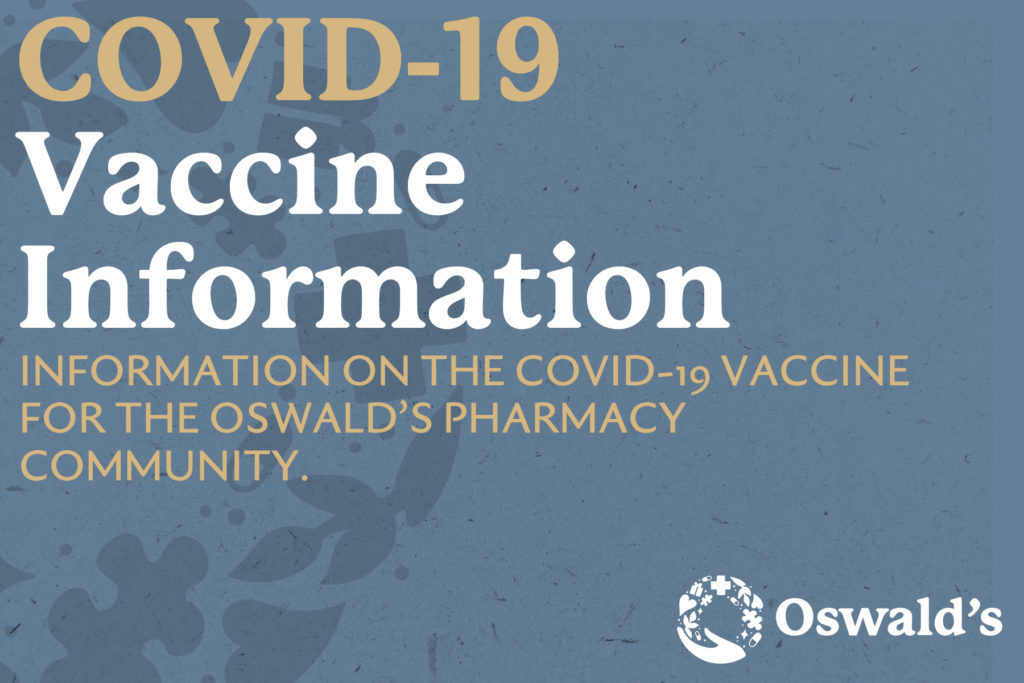 COVID-19 Vaccine at Oswald's Pharmacy
Last Update: September 10, 2021
We currently have vaccine in stock! Please email rx@oswaldspharmacy.com or call us at 630-355-2500 with any questions or to confirm appointment availability.
Illinois is currently in Phase 2 of the COVID-19 vaccine rollout

Click here for more information on the IL COVID-19 Vaccine rollout plan.
COVID-19 Vaccine FAQ
When can I get my COVID-19 vaccine from Oswald's Pharmacy?
Illinois state and county health departments are determining individuals' eligibility to receive the vaccine according to the Illinois COVID-19 Vaccination Plan. Illinois and DuPage County are currently in Phase 2 of the plan, which means everyone 16 and up is eligible for vaccination. Oswald's Pharmacy will be using an appointment-based model and administering vaccines either through our federal contract with Health Mart Pharmacies Group and the CDC or through our direct relationships with the DuPage County Health Department and the Illinois Department of Public Health. Check this page frequently for updates on when Oswald's Pharmacy will have the vaccine.
Will my COVID-19 vaccine be free?
According to the CDC's website, the vaccine will be provided to patients at no cost at this time. Healthcare providers may still charge a vaccine administration fee for actually giving you the vaccine, but this will be covered by insurance or by the Health Resources and Services Administration Provider Relief Fund for those who are uninsured or whose insurance does not cover the vaccine administration. Patients may get the vaccine from a healthcare provider regardless of if this provider would normally be considered in-network or out-of-network by their insurance plan. You will need to bring your insurance information with you wherever you get the vaccine. For people with Medicare or Medicare Advantage plans, you will need your Medicare Part B card (the red, white, and blue card).
Which COVID-19 vaccine will I get? How do the vaccines work?
Unfortunately, we do not know which vaccine Oswald's Pharmacy will be getting from week to week until a few days before we actually receive it. There are currently 3 vaccines that are available for Emergency Use Authorization in the United States: the Pfizer-BioNTech COVID-19 vaccine, the Moderna COVID-19 vaccine, and the Janssen (Johnson & Johnson) Vaccine. Other vaccines are under development or in clinical trials before they can be granted Emergency Use Authorization in the United States.
There are currently 3 different types of COVID-19 vaccines that are in various stages of development or use: mRNA, protein subunit, and vector vaccines. Each type of vaccine works differently, but all are able to recognize and protect people from COVID-19. Both the Pfizer-BioNTech and the Moderna vaccine use mRNA technology. The Janssen vaccine is a viral vector vaccine. The CDC has more information on how these vaccines work available here.
What allergies will prevent me from getting the COVID-19 vaccines?
Experts are advising that anyone with a history of heparin-induced thrombocytopenia (HIT) should not receive the Janssen vaccine, but may receive an mRNA vaccine. We also know that certain vaccines should not be administered to anyone who has a known history of an allergic reaction (within 4 hours that caused hives, swelling, or respiratory distress) or a severe allergic reaction (such as anaphylaxis) to the following:
A component of a COVID-19 vaccine including either of the following:

Polyethylene glycol (PEG), which is found in some medications, such as laxatives and colonoscopy preps (should not get an mRNA vaccine)

Polysorbate, which is found in some vaccines, film-coated tablets, and IV steroids (should not get the Janssen vaccine)
A previous dose of a COVID-19 vaccine (depends on the vaccine)
Components of the Moderna, Pfizer-BioNTech, and Janssen (Johnson & Johnson) COVID-19 vaccines are found on their package inserts and EUAs. Neither of these vaccines contains any preservative or mercury in any form.
Here is some information about what each of the components in a vaccine does.
What are the side effects of the COVID-19 vaccines?
According to the CDC and the FDA, side effects (also called adverse reactions) are usually mild to moderate and resolve within just a few days. The most common side effects reported after the vaccines include:
Pain, swelling, and/or redness at the injection site
Fatigue (feeling very tired)
Headache
Muscle or joint pain
Chills
Fever
Swollen lymph nodes
COVID-19 Vaccine in Illinois
Oswald's Pharmacy has partnered with the federal and state governments to administer the COVID-19 vaccine. Patients will not be required to pay anything in order to receive the vaccine. Depending on the type of vaccine available at the time, each person will receive 1 dose or of a vaccine or 2 doses spread out over a few weeks.
As of  May 12th, 2021,
there are now 3 vaccines with FDA EUA approval. The Pfizer-BioNTech vaccine has been granted Emergency Use Authorization for use in children and adults aged 16 years and older, and the FDA just gave approval for use in children 12-15 years. The Pfizer-BioNTech vaccine was shown to be 100% effective in children 12-15! The Moderna and Janssen vaccines are authorized in adults 18 years and older. 
Vaccine administration and distribution are currently in Phase 2 of Illinois' COVID-19 Vaccination Plan, which means that anyone 16 and older is able to be vaccinated (and children 12-15 years of age with the Pfizer-BioNTech vaccine). Below is a table from the plan showing the populations eligible for vaccination in each phase.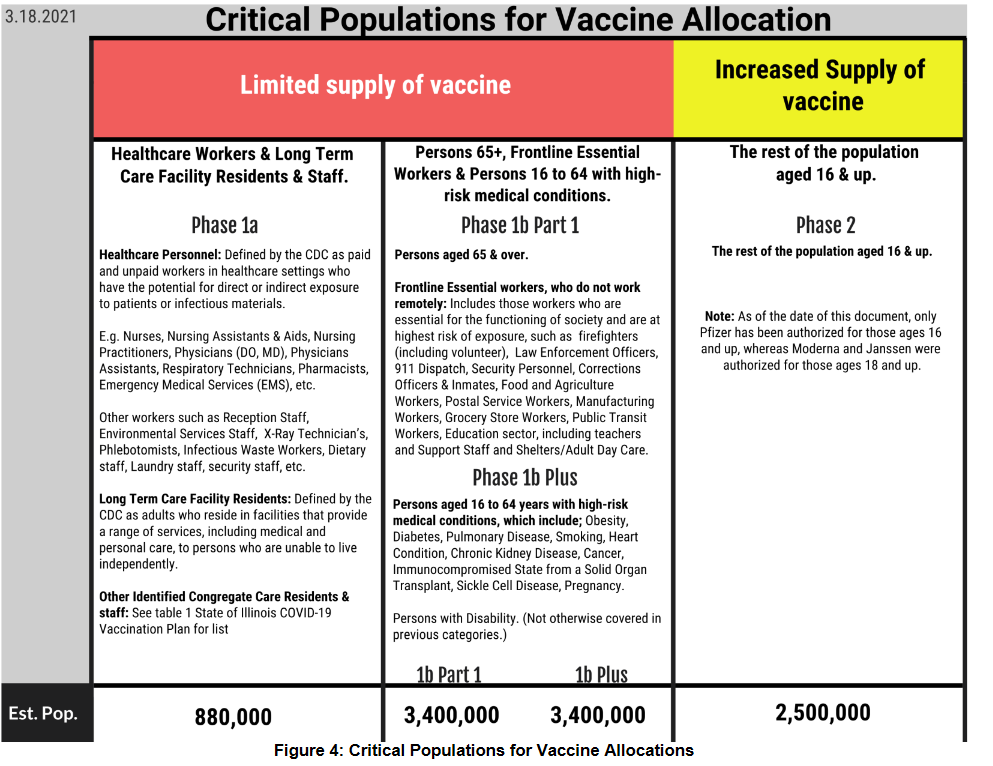 Graph taken from the IDPH COVID-19 Vaccination Plan Updated 5.10.21
Oswald's will continue offering COVID-19 testing and other vaccinations.
Further COVID-19 Vaccine Resources
CDC COVID-19 Vaccine Information
Illinois Department of Public Health COVID-19 Vaccine Information