Heading into the holidays this year, we thought it would be a great idea to share some of our favorite gift puzzles & puzzle brands. These puzzles aren't limited to being used as gifts for the holidays–they make great gifts year-round!
Without further ado, let's get to the puzzles and brands.
Springbok Puzzles
Founded in 1968, Springbok revolutionized the puzzle industry with quality pieces and uniquely shaped puzzles. Springbok prides their company and puzzles on:
Being the oldest and most respected puzzle brand on the market today

Precision-made interlocking pieces.

Vibrant lithography.

Every piece in the puzzle die is an individual-shaped cut.
Springbok's dedication to quality has given them a reputation as one of America's finest puzzle makers. They make puzzles of all shapes (rectangles, squares, circles) and for all ages.
Paris Afternoon Puzzle
Pieces: 1000
Finished Size: 30"x24"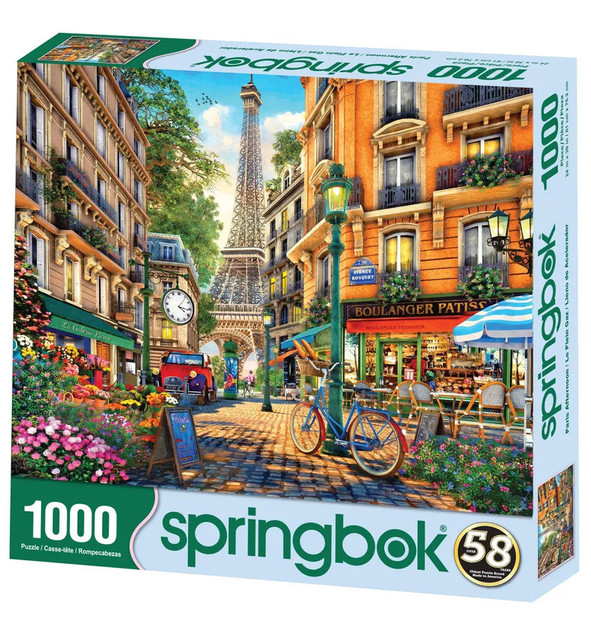 Lose yourself in the streets of Paris on a fine afternoon… The image featured on this puzzle is charming and warm. Artist Dominic Davison opens up a world both past and present by welcoming you to a gorgeous day in the world's darling city.
This puzzle is perfect for all levels of puzzle experience. The diverse image makes putting smaller sections together easier than some of the other puzzles on our list.
Ravensburger
From 300-piece puzzles to the world's-largest 40,320-piece puzzle, Ravensburger makes a puzzle for everyone! Ravensburger has countless puzzles featuring:
Landscapes

Monuments

Art

History

Maps

Animals

Photographs
Ravensburger has been making amazing puzzles since 1891. Each puzzle contains wholly unique pieces with no duplicates, making puzzle building smoother than ever before.
Abundant Blooms Puzzle
Pieces: 1000
Finished Size: 27"x19.5"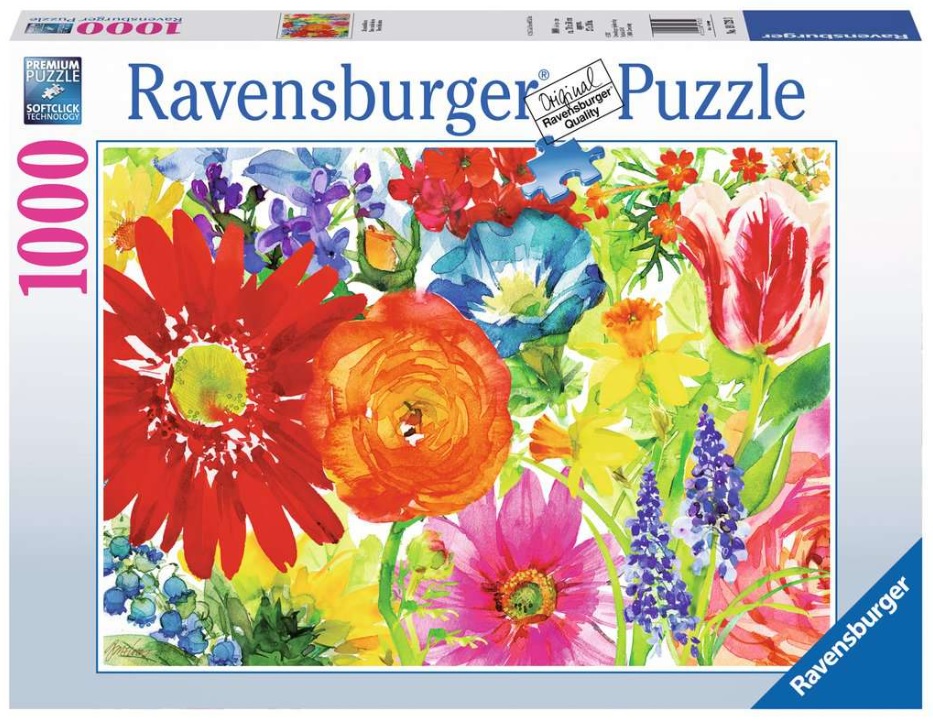 A watercolor wonder of stunning blooms with Gerbera daisies, ranunculus, variegated tulips, and more. Abundant Blooms is a puzzle that looks beautiful and is fun to complete. 
This 1000-piece puzzle is perfect for experienced puzzlers as it is a bit difficult. The dense watercolor flowers create a bit of a challenge in the early stages of completion. The completed puzzle is definitely worth the work!
Ravensburger's Abundant Blooms Puzzle is only available from brick-and-mortar retailers. You won't find this one online.
New York Puzzle Company
New York Puzzle Company (NYPC) was founded in 2007 with one goal: to make a map of the NYC subway system. The puzzle was a success and NYPC has grown steadily ever since.
NYPC prides its products on quality and craftsmanship. Every NYPC puzzle features:
Pieces made with 100% recycled, 80-point chipboard thickness. 20% higher than most standard-made puzzle pieces!

Linen-style paper pieces to reduce glare while puzzling.

All puzzles are shaken before being boxed to help reduce the amount of puzzle dust and mix the pieces up.
NYPC puzzles are always ready to build right out of the box–no piece mixing required!
National Geographic The World Puzzle
Pieces: 1000
Finished Size: 26.625″x19.25″
Piece together one of the most iconic world maps: The National Geographic World Map! This 1000-piece puzzle features a full world map with fully-labeled countries, major cities, and geographic features.
NYPC's National Geographic The World Puzzle is constructed with a linen-style finish to reduce glare. This makes The World puzzle a great choice for mounting and framing. 
A great choice for kids interested in puzzles who need to learn some geography!
White Mountain Puzzles
White Mountain Puzzles (WMP) was founded as a family business in 1978 and remains family-owned today. WMP's signature is the size of their puzzles. At 24"x30", their 1000-piece puzzles are the largest in the puzzle industry!
Every White Mountain Puzzle includes a happiness guarantee. What does this mean? If you are not completely delighted with your puzzle experience, White Mountain will replace your puzzle with a new one for free. Contact White Mountain Puzzles directly for details. Retailers aren't able to fulfill the happiness guarantee!
Iconic America Puzzle
Pieces: 1000
Finished size: 24"x30"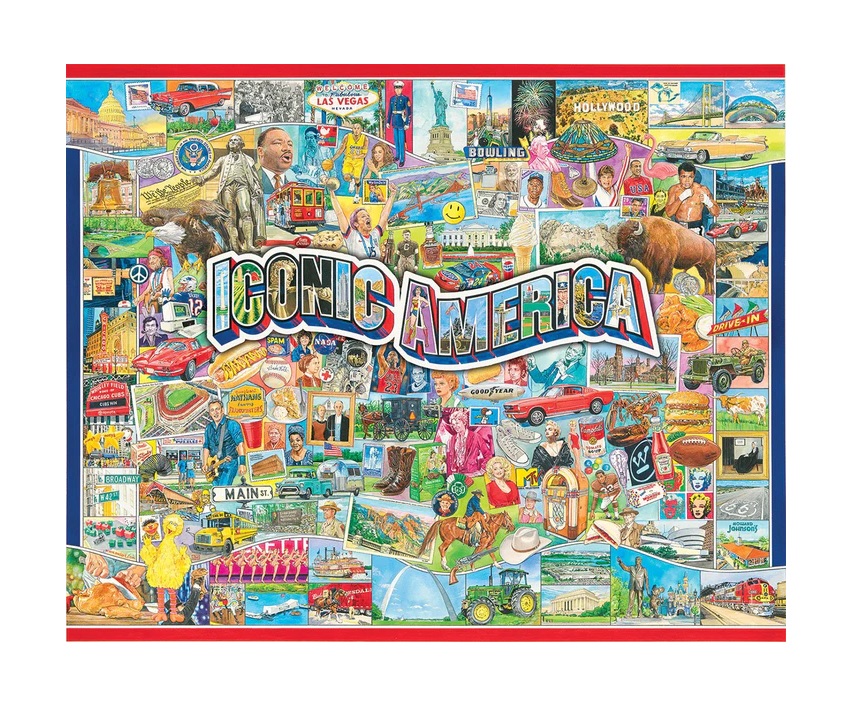 Hand-painted by artist Jim Mellet, the Iconic America puzzle features things Americans love. From nostalgia and pop culture to landmarks and history–this puzzle has it all!
This puzzle is perfect to build with family & friends. Most people won't recognize every illustration on the puzzle, but a group of people will!
Jigsaw Puzzles at Oswald's
Oswald's has the best selection of jigsaw puzzles (and other puzzles) in the Naperville area. Stop by our store 7 days a week and check out the hundreds of puzzles regularly in stock. Our puzzle selection is hand-picked by our team and changes from season to season.
If you have any questions about particular puzzles or want to inquire about special ordering a puzzle, let us know. Give us a call or send us an email. Our team members will be happy to help you find the perfect puzzle!