If you own a lift chair or power lift recliner, you're probably looking for ways to protect your investment. Thankfully it's not difficult to make sure your chair runs smoothly for years to come. Regular cleaning and simply paying attention to how your chair feels are among the simplest ways to take care of your chair.
A regular maintenance schedule may not be enough for your chair. Quickly responding to accidents like spills or bumps is just as important as a cleaning schedule.
I'm going to list specific care tips for lift chairs in an easy to read format. Each category will have bullet points with key care tips.
The Golden Rule (of Lift Chair Care)
Always unplug your chair before performing any maintenance or cleaning! If your chair has backup batteries, remember to remove those too.
Electronics and Motor Maintenance
Once a month the motor, hand control, and cord should be vacuumed or wiped down with a wet rag—dust buildup is bad! Put your chair into an upright position for easy access to the motor.
Always keep your hand control on the chair seat, in the chair pocket or on a nearby table. Hand controls on the floor are hand controls that get stepped on.
If you notice any fraying on your hand control cord, call your retailer or the chair manufacturer ASAP. Exposed wires can lead to chair malfunctions or worse.
Listen to your chair! If you notice any out-of-place noises, call your retailer or the chair manufacturer and get a diagnosis. You don't want to be stuck in your chair!
Fabric and Accessory Maintenance
Clean up spills ASAP! Even 'stain-resistant' fabrics can be marked if a spilled liquid sits for too long.
Regular fabric furniture cleaners will work fine with lift chair fabrics (unless noted). Make sure to follow the instructions specific to your cleaner!
After cleaning your chair, be sure to wait until it is totally dry before plugging it back in and using it again.
If you have special fabric, read the manual to find out what cleaning method works best.
Always keep an eye out for fabric tears, broken seems and any fabric unraveling. If you notice any of these, call your retailer or the chair manufacturer ASAP.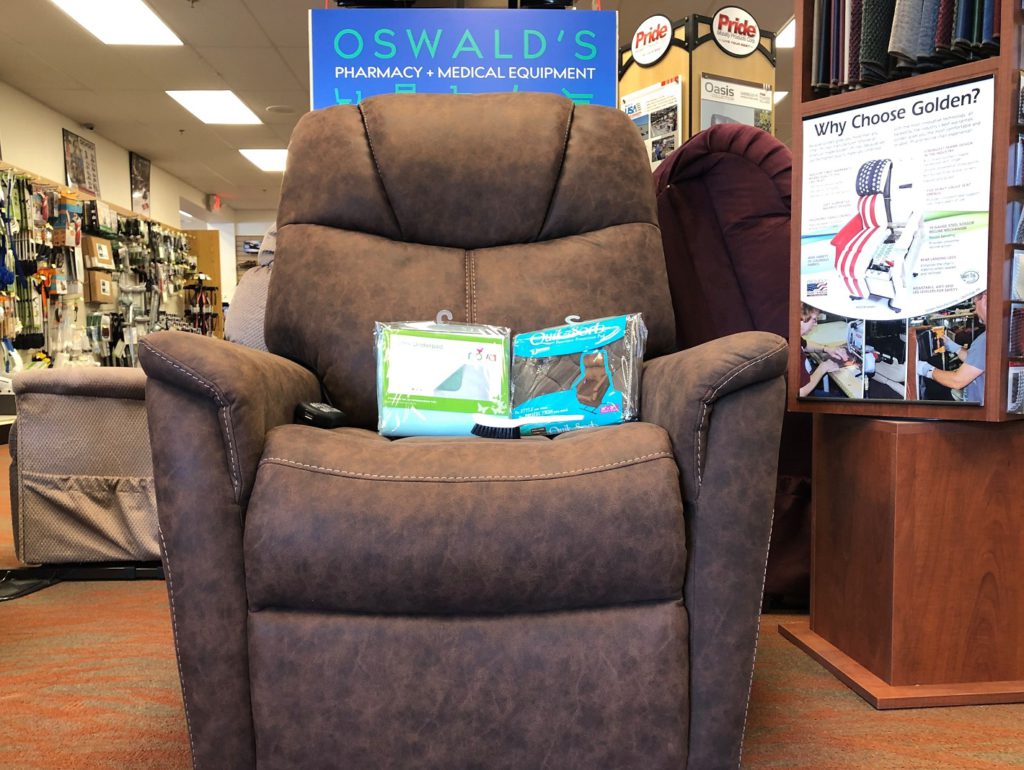 Lift Chair Moving Maintenance
Before moving your lift chair, make sure the area is clear and the chair is unplugged. Tuck the power cord and hand control into a side pocket.
Be sure that the person moving the chair is in good physical health. Lift chairs weigh over 100 lbs (on the low end!), so moving them is very physically demanding.
If you need to carry the chair make sure you have 2 people! The weight distribution on lift chairs makes them very awkward to carry—it is not a 1-person job.
Lift chairs can be pushed around on carpet by one person for short, same-room moves. Again, be sure the person doing the moving is in good physical health. The chair may move around easier on carpet, but it's still heavy!
If you decide to push a lift chair on a hardwood surface, be sure to have moving sliders. Pushing a heavy chair on hardwood may lead to scratches or chips without sliders.
General Lift Chair Maintenance Tips
Avoid 'plopping' into your chair at all costs. Always try to ease yourself into your chair. 'Plopping' leads to fast seat and lift mechanism degradation.
Your lift chair is not a toy. Young children may love playing with your lift chair, but your lift chair does not love having all the buttons pressed at once.
If you have small pets (especially cats) MAKE SURE they are not around when you put your chair in motion. If you can't see, use your ears. Turn down your TV or any music—you will hear it if a pet is under the chair.
If you notice your chair hitting anything while you are reclining STOP! Lift chair motors are powerful and will knock over lamps, push things out of the way and can potentially punch holes through weak drywall!
NEVER put your hands near moving parts while the chair is plugged in.
NEVER sleep in a lift chair if you are alone. Power outages or other issues could leave you stuck in the chair.
Lift Chair Accessories
If you buy any pillows or cushions from the same manufacturer as your chair, follow the same fabric cleaning instructions as the chair.
Make sure that any under-chair tables or supports do not interfere with your lift chairs range of motion.
Always remember to regularly clean side pockets or compartments on your chair. Books, change and more can disappear if you forget to look!
NEVER use an extension cord with your chair. Lift chairs need to be plugged directly into properly grounded outlets.
More Lift Chair Maintenance Questions?
If you are looking for more information on lift chair maintenance, be sure to give one of our technicians a call or send us an email. We have dozens of chairs in-stock and ready to test. With dozens of fabrics on our Medical Equipment Showroom floor, we can show you how to properly clean your chair.
We always stock additional 'maintenance' accessories for lift chairs including underpads, chair covers, patient alarms and more. Stop by and find what you need 7 days a week!