We have customers come in every day of the week looking for a wheelchair. The majority of these customers ask the same question: What is the lightest wheelchair you have?
Unfortunately, most wheelchairs worth their salt are going to be heavy or very expensive. Why? Well, first off, the lightest frames (carbon fiber) cost a fortune. Second; the wheels are the heaviest part on most wheelchairs.
Wheelchair wheels are not traditional tires that you can inflate. The wheels are made of composites that feel like rubber and hold up for years with little maintenance.
So how is a transport chair different? You guessed it; it's all in the wheels.
Wheelchair and Transport Chair Wheels
The wheels on wheelchairs usually have around a 24" diameter. 'Standard' wheels (rubber/plastic looking composite) weigh roughly 8 lbs. each. This adds 16ish lbs. to the weight of a wheelchair. 16 lbs. is a lot of extra weight to lift for disabled or elderly users.
Transport chair wheels are most commonly available in 8" or 12" diameter sizes. These wheels weigh roughly 2 and 3 lbs. respectively. This may seem off—how is a 12" less than half the weight of a 24" wheel? Wheelchair wheels also have a bar on them which allows users to self-propel.
Losing 10-12 lbs. can be a huge help for anyone who travels with a wheelchair regularly. That being said, chair weight isn't everything. Everyone has different needs in different situations. You need to look at your situation and see what would help you the most.
To Self-Propel or Not to Self-Propel
The biggest difference to users of wheelchairs and transport chairs is the ability to self-propel. Wheelchairs allow self-propulsion which allows independence. Transport chairs require someone to push the user around—the wheels are too small to reach. Wheelchairs also have handles, allowing users to be pushed, so they are a bit more flexible.
Transport chair is an apt name for the unit: The user is being transported and the caretaker is transporting. Wheelchairs have an even more appropriate name: They are literally chairs on wheels. This name distinction makes it easy to differentiate between the two products: Transport transports. Wheelchairs do double duty.
Do I Need a Transport Chair or a Wheelchair?
Ah, the big question. This is a question that changes from person to person. There are a few questions that you should ask yourself:
Is weight an issue? If you don't have any trouble with unit weights, you will probably want to look at wheelchairs. They are a bit more flexible and have more options.
Is the situation temporary? If you are in a situation where a transport or wheelchair is only required for a short time, look at where you will need to be.

A lot of appointments? Transport chair. Trips require aid—transport chairs make it easier on everyone.
Exclusively at home? Wheelchair. A degree of independence at home can't be overlooked.

How often is the unit going to be used? If you need a wheelchair or transport chair every single day, you'll want to look at 'less important' features, like comfort, ease of use, support and more.
What Wheelchair or Transport Chair Features Should I Look For?
The last bullet point in our last section emphasizes an important point for regular wheelchair or transport chair users. Quality of life! You could have the lightest weight chair in the world, but it would be worthless if the user hated it. What should you look for to improve comfort?
Cushioning and back support are the two most important comfort areas to look at when checking out chairs. There is a distinct difference between a standard wheelchair and a wheelchair built with back support in mind.
If you find a great chair, one that has good weight and size, but the cushioning or support leaves a bit to be desired, you still have some options. Stand-alone cushions and back cushions can be purchased. Think of this as customizing your chair.
Try Before You Buy
Sitting in a wheelchair or transport chair before you buy it is almost a necessity for daily users. We encourage all of our customers to try out multiple units before they make their final decision.
If you need a wheelchair or transport chair for a visiting relative, we have rentals available for as short as 2 days. Our rentals are standard units, so if you need a cushion or other accessory, make sure to try them out while you are in the store! Still have questions?
For any other questions about wheelchairs or transport chairs, give us a call, shoot us an email or, better yet, just stop by our medical equipment showroom! We are open 7 days a week and no appointments are required to talk to any of our certified team members.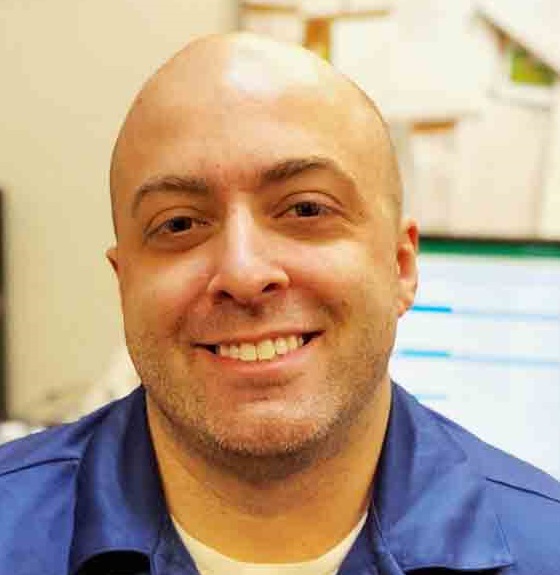 Wil has been working for Oswald's since 1994. A 6th generation member of the Wickel-Oswald-Kester-Anderson family, Wil focuses on web development, inventory, and sales.
With over 10 years of experience selling durable and home medical equipment, Wil is an expert on helping people find what they need to use after major surgery or an accident.
Wil graduated with a BA in English Literature from Knox College in 2008, minoring in History.
A graduate of Naperville North High School in 2004, Wil is a lifelong Naperville resident and is currently a columnist for Positively Naperville.