You've probably seen news stories about how drug companies keep increasing the prices on their medications. In many states, insurance companies can change their formularies and what medications they cover at any time, without informing patients. Imagine: Your doctor just prescribed you an expensive medication, and you're not sure you can afford it. What can you do to ensure you get what you need?
With rising medication prices, it's important to know that there are still a few things you can do to save money on your prescriptions. There are also a few things you should know and be on the lookout for.
The Truth About Prescription Discount Coupons
Most people have heard of or seen a prescription discount coupon at some point. Sometimes you'll receive one at random in the mail, some are available online, and some you can get from your doctor. These cards often promise a discount on your prescription medications, making claims like they will help you "save up to 75% on all of your prescriptions."
Prescription discount cards also claim that these discounts are free to you, the patient. While this is definitely a tempting offer – who wouldn't want to save that much money their prescriptions? – the claims these cards make are often false. Sometimes these 'too good to be true' offers even sell your personal information to other drug companies!

Sometimes prescription discount cards don't help you save any money at all. In some cases, you may even end up paying more than the cash price for a drug!  In one video, a pharmacist explains how sometimes you can pay more than the cash price a drug and not save any money. It is also important to know that these coupons are billed instead of your insurance.
If the card 'covered' medication is on your insurance formulary, then the copay will usually be lower than what you pay with the discount cards. Some discount cards make claims about what they can save you and what you will pay at different pharmacies. These claims are not always accurate.  For example, a GoodRx card may tell you online that with their coupon you'll pay only $32 at a specific pharmacy, but when you get there the copay comes turns out to be $45. These cards are not always good at accurately estimating what you'll pay for your medications.
How Do Prescription Discount Cards Get You A Discount?
Another thing to consider when signing up to use these cards what happens when we bill them. The companies that fund these cards are getting your personal information, including your name, age, your prescription medications, your address, and your phone number. They can then sell this information to drug companies, so they can market directly to you. If you're wondering how these cards are able to provide discounts to you for free, they can do it because they make money by selling your personal information.
Discount cards aren't all bad, though. If you don't have insurance or if your insurance doesn't cover a particular medication that you need, these cards can be used to help decrease the price. Some pricey medications may not be on your insurance's formulary, and that's where these discount cards can really come in handy.
How Else Can You Save on Medications?
There are some other ways you can save money on your prescriptions without using prescription discount cards or coupons.
Ask for Generic Medications:
Generic versions of medications are cheaper than the brand versions, but what exactly does "generic" mean?
When the patent on a brand-name medication expires, other manufacturers may begin making generic versions. In the United States, generic drugs have the same active ingredients as the brand. Generic medications are required by law from the Food and Drug Administration (FDA) to be as safe and effective as the brand-name medication.
Some generics may have different inactive ingredients than the brand-names. These include ingredients that may help hold the tablet together or give the medication its color, among others.  Lipitor, for example, is the brand name for the drug atorvastatin, a commonly prescribed drug to help with cholesterol levels.
Since generic medications are required to work in the body the same way that the brand medication does, you can save money by asking your pharmacist to make sure they are dispensing generic versions of medications for you when available. In most cases, a generic can be swapped with a brand medication without a second thought. There are some exceptions to this that would require you to talk to your doctor first, such as thyroid medications, medications used to control or prevent seizures, and some others.
What Happens When a Medication Becomes Generic?
Once a generic medication becomes available, insurance companies often stop paying for the more expensive brand version or even raise your copay for the brand-name. So regardless of if you're paying with insurance or just paying the cash price, generics will almost always be a cheaper option than brand.
Check if there is a Manufacturer's Coupon for your Brand Medication:
Most drugs available on the market are available as a generic, but some are still brand-name only until their patent expires. Manufacturers often offer coupons for brand-name medications and are billed after your insurance to help bring down the copay (the amount the patient still owes after the drug has been billed to insurance). Some examples include Vyvanse, Xarelto, Eliquis, and others.
Prescription discount cards are available to almost everyone, with the exception of patients who use Medicare, Medicaid, or Tricare.  These coupons can make a huge difference in your copay if you're taking a medication that is still only available as a brand.
Manufacturer coupons can definitely help you out if you've been prescribed an expensive brand-name medication, but there are still some other things to consider before using them. These coupons usually have to be manually activated, meaning that you either have to call a 1-800 number or go online. Activation also requires some personal information, like name, age, and sometimes even a phone number or address. These coupons also usually only work in conjunction with your insurance, which means that you may not be able to use them if your insurance isn't paying anything for the medication or you don't have insurance (although some can still work without insurance).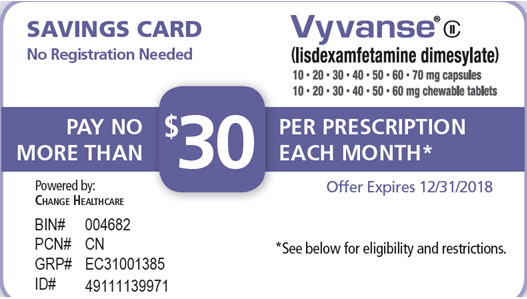 Prescription Discount Coupon Limitations
Most discount coupons also have limits on how much they can save you. For example, a coupon that says "Pay no more than $25 per month on this medication," may only pay up to a certain amount (say, $100). So, if your copay after insurance is $300, you would still be paying $200 with this coupon and not the $25 it claims.
Overall, these coupons can help you save quite a lot of money, so it becomes a matter of price versus sharing your private information with drug companies. To see if your brand-name medication has a manufacturer coupon available, look up the name of the drug on the internet and see if they have a "Patient Savings Program" on their website. You can always ask your pharmacist if there is a specific coupon available.
Ask Your Pharmacist
If you're still not sure of the best way to try and save money on your prescription medications, ask me or one of the other pharmacists here at Oswald's Pharmacy.  Sometimes the best option is to call your insurance company and find what medications are covered and what the copay is for your medications.
Also, a reminder: Medicare open enrollment is happening now through December 7th.  One of our pharmacists can help you find the plan that is best suited for your needs.