The last few months have been a lot for everyone to handle. With all the tragedy COVID-19 has caused, I tried to look for some good or fun news that relates to Oswald's and our customers. The first thing that jumped out at me was puzzles!
We have sold more puzzles over the past few months than any time I can recall (and I've been working here since 1996). Puzzles are a great way to encourage family teamwork when families are stuck in place due to something like a pandemic.
The puzzle selection here at Oswald's has been one of our most curated sections since we moved to our current location in Naperville Plaza in 2004. Our gift and toy buyers did a fantastic job selecting puzzles that have great art and are challenging but not too challenging.
I wanted to go over a few of the puzzle lines we currently have large selections of. All the puzzle lines we carry are high-quality and offer dozens of styles that will put a smile on the face of even the most bored among us.
Reminder: All of our puzzles, both online and in-store, are on sale for 20% through June 30, 2020! Now is the best time to stock up on your puzzle supply for the fall and winter.
Before talking about their puzzles, I want to write a bit about eeBoo as a company. In their own words; "eeBoo is a boutique, woman-owned toy manufacturer that specializes in useful, beautiful, and well-made educational games and gifts." eeBoo's owners are mothers who set out to create great toys and gifts that can be sustainably sourced.
That being said, their puzzles are high-quality and look great. eeBoo puzzles come in a lot of fun styles. From foil-piece puzzles with pieces that shine to round puzzles that form a circle when they are put together, eeBoo has fun options for everyone.
All eeBoo puzzles come in a sturdy box that is perfect for gift wrapping.
My favorite eeBoo puzzle: Tree of Life 1000pc Puzzle
The image on this puzzle is amazing. 1000 piece puzzles can be tough to put together, but the collage on this image makes it manageable and fun! I love finally putting together part of a puzzle that has been stumping me, and this puzzle offers a lot of that type of satisfaction.
Most Galison puzzles focus on iconic art imagery and arranged collages. Galison has worked with museums, non-profits, and others throughout the years to create a great portfolio of products based on popular pieces of art held by these groups.
The puzzles we carry by Galison include images from Gustav Klimt and Andy Warhol, along with colorful collages and mosaics. Galison also has some fun puzzle prints, including Bookish Cats and Dogs with Jobs.
The boxes Galison puzzles come in really are 'best in class.' Each puzzle comes in a box that feels sturdy and has a nice, matte finish. You can feel the quality.
My favorite Galison puzzle: Daily Special 625pc
What's better than one puzzle? Two puzzles! This puzzle is two shaped puzzles in one. What's featured in the images? Coffee and donuts—and the puzzles are shaped like a cup of coffee and a donut.
Puzzles from Mudpuppy are family-friendly, with an emphasis on puzzles that are fun for children. Mudpuppy promotes their products as "puzzles, games, and toys for children and the young at heart." Mudpuppy puzzles are great for families with younger children.
If you're looking for puzzles that also have a bit of an educational theme, Mudpuppy puzzles may be just what you're looking for. Animals A-Z and Cool Cats A-Z have images and names corresponding to animals and cats respectively. This cute Little Scientist puzzle has images of famous scientists throughout history:
But wait… there's more! These 'easy' sounding puzzles are 500 pieces, which is enough to make them challenging for children in grade school (and probably some adults, if my puzzle skills are any indication).
Mudpuppy puzzles come in boxes that are comparable to Galison. They look and feel great and are perfect for gift wrapping.
My favorite Mudpuppy puzzle: Little Scientist 500pc
The stylized cartoon images of famous scientists from all over the world on this puzzle really bring out my inner geek! From Isaac Newton to Carl Sagan, this puzzle features a lot of great minds in vibrant colors.
Ravensburger makes a large variety of puzzles that cover everything from photographs to hand-painted fantasy scenes. These puzzles are what you think of when you think of puzzles—putting together a picture of something that caught your eye.
Ravensburger has licenses with Disney and offers some beautiful puzzles with iconic scenes (either featured or in a collage) from movies we all grew up on.
The boxes for Ravensburger puzzles are large and easy to wrap. Everyone likes opening big gifts, so these puzzles are great for birthdays and other holidays.
My favorite Ravensburger puzzle: Beatles Albums: 1964-1966 1000pc
Every Beatles album cover from Meet the Beatles to Revolver all in one puzzle! My dad and brother (Oswald's owner Bill and manager Alex) are huge Beatles fans, so this puzzle brings back some memories. It's also amazing to think about how much good music the Beatles put out in just 3 years (and that their best, in my opinion, was still to come).
Self-described as "America's Favorite Jigsaw Puzzle," White Mountain has puzzles that focus on pop culture, logos & brand images, and Americana. White Mountain puzzles include a lot of collages based on themes including decades and media categories.
Many of the puzzles from White Mountain are hand-drawn and colored collages. Puzzles like The 1980's and The New Millennium are chock full of the images and people that made the corresponding decade memorable.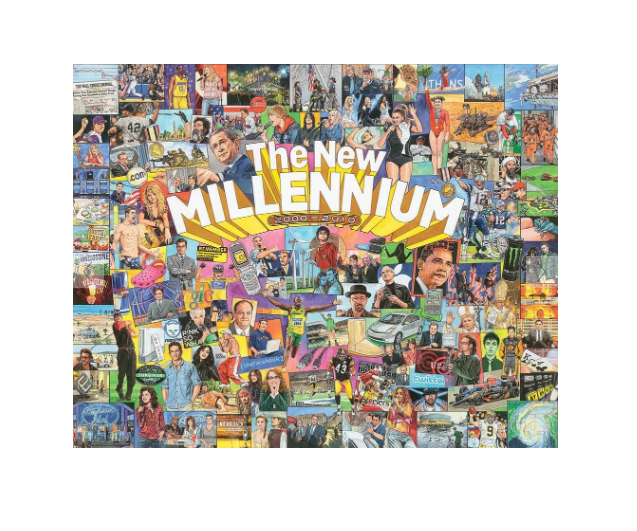 All White Mountain puzzles come in boxes that are easy to gift wrap. Each puzzle box features an image of the finished puzzle that takes up the entire box—no borders or details.
My favorite White Mountain puzzle: The 1980's. I was born right in the middle of the 80's, so I was kind of obligated to choose this one. The collage features many things that shaped our world today. From Ronald Reagan to the personal computer, this puzzle will make you reminisce about the 80's.
Puzzles at Oswald's
As we have continued to curate the puzzles here at the store, we have also started rotating featured puzzles on our web store. The puzzles we choose online are ones we think will appeal to most people—but we have dozens and dozens of more options in-store.
If you are looking for a puzzle that is not featured as a product on our website, please give one of our personal shoppers a call. We are open 7 days a week and always have team members on hand who can help you find the puzzle you are looking for.
If you do find what you're looking for on our web store, don't forget to check back a few times each month. We are keeping our online puzzles up to date with popular designs from the puzzle companies listed above—and a few new manufacturers as we find ones we know our customers will love.