Injuries to the foot, ankle and lower leg and general can really limit your mobility. Even worse—you know that you're going to be on crutches for a while. Here's some good news: You don't have to use crutches. What if I told you that you don't have to use crutches AND you can get around quickly?
That's what I thought. The solution you are looking for is a knee scooter.
Shelve the Crutches, Roll Out the Scooter
Crutches are a huge pain in the… ankle? The overall design hasn't changed much since the days of the Civil War. That was over 150 years ago! Thankfully the last decade has introduced some great crutch alternatives, chief among them knee scooters (also known as knee walkers).
The general idea is simple. Four wheels, a knee rest and a steering shaft. There are many variations available for these features, just like any other mobility product. Product weight, size, weight capacity, cushion type, wheel size and even wheel count (some models only have 3).
The name includes the word 'knee,' which might throw you off as knee walkers are not for knee injuries. The name makes sense because you are resting weight on your knee on the walker itself.
Find the Solution You Need
If you think a knee scooter is just what you need, the next step is to determine what kind of knee scooter you need. There are a few important questions everyone should answer:
Height and weight of the user
How long is the estimated recovery period?
Additional surgeries. If the rental is for post-op recovery, will there be another surgery?
Any other conditions or complications? Certain conditions need to be evaluated—is a knee walker a safe option?
If you answered yes to the last bullet point, you should look at the condition itself. If it causes balance or motor issues, a knee scooter may be a poor choice. Chronic conditions like severe arthritis can make it hard to steer a scooter. If you are on the fence, give your doctor's office a call and see what they have to say.
If you are not worried about the second two bullet points, your options are cut-and-dry. Short to average height? Regular knee scooter. Over 6'2" or 300 lbs? Heavy Duty Knee Scooter. Less than 4-week recovery period? Rent one.
If you are looking at a longer recovery period, the rental versus purchase question gets a bit tougher. Additional surgeries, specifically the same surgery on both legs (at different times) also gums the question up. So, is there an answer?
To Rent or to Buy: That is the Knee Scooter Question
Recovery period length is the main rent versus buy question. Short-term (1-3 weeks) is always going to be a rental. Even if you're getting the same surgery done to your other leg, 1-3 weeks is a definite rental. There is no need to spend $200 to buy an iffy knee scooter when you can rent one. Short duration recoveries can go very quickly. If you're back on your feet sooner than expected, take the rental back early and save some money!
Medium-ish recovery periods (4-6 weeks) is up to you. Here's why: 6 weeks of knee scooter rental is around $200. Most places that rent knee walkers only have one unit type in stock. If you don't like the style of the rental, you can certainly choose to purchase a different model.
Long recovery periods (6+ weeks) is going to get a hard "buy" from me. Using the same weight bearing device for over a month will get old fast. But do you know what will get old even faster? Using an uncomfortable rental unit. Why make recovery worse than it already is? Choose the unit you need.
As usual, I'm going to say it: TRY BEFORE YOU BUY! What looks good in a picture can feel real bad in person.
Park the Scooter, Pick up the Crutches
Even though knee scooters make you infinitely more mobile than the best crutches, you should still have a pair for short distances. Knee scooters are difficult to take upstairs, especially if you live by yourself. Small doorways and hallways can also be a challenge for knee scooters.
Crutches have gotten so cheap that many places don't even rent them anymore. If you really don't want to buy crutches, call your friends! You'd be surprised how easy it is to find a friend or family member who has a pair of crutches gathering dust in their attic.
Talk to One of Our Experts
If you have specific questions about knee scooters, don't hesitate to give us a call. Our Medical Equipment Showroom is staffed with trained team members who can help you find the right product. You can also send us questions via email or just stop on by 7 days a week.
A final tidbit: Knee scooters are actually kind of fun. Try not to roll around too fast!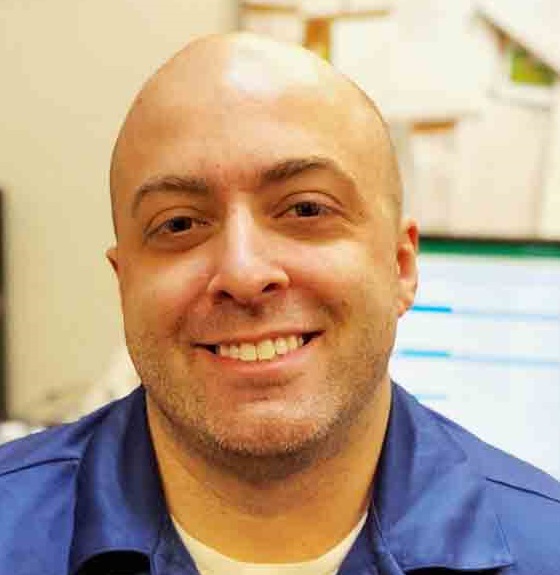 Wil has been working for Oswald's since 1994. A 6th generation member of the Wickel-Oswald-Kester-Anderson family, Wil focuses on web development, inventory, and sales.
With over 10 years of experience selling durable and home medical equipment, Wil is an expert on helping people find what they need to use after major surgery or an accident.
Wil graduated with a BA in English Literature from Knox College in 2008, minoring in History.
A graduate of Naperville North High School in 2004, Wil is a lifelong Naperville resident and is currently a columnist for Positively Naperville.