No one loves a fun craft activity like me. With all the wet weather we have been having, not to mention the chill in the air, it's a perfect time to try one of our great activity kits. With eight nieces and two nephews, I love trying out our craft activities; it allows me to pick out the perfect Christmas gift for each of them. I definitely love being an Auntie!
Making Crafts in the Fall
This month's chilly weather called for a Creativity for Kids Craft Kit. It's always hard to choose a Creativity for Kids Kit—they have so many to choose from! Since I have more girls to buy gifts for, I decided to try the Calming Swirl Charms set.  Some other CFK kits I considered trying out:
Emoji Bracelets; one of our most popular.
Color Your Mood Crystal Jewelry
Aquarium Terrarium
Water Globes Under the Sea
While designing my charm I decided to go with a mermaid theme.  This is so I will have some fun jewelry to wear with my mermaid costume at this year's Naperville Plaza Fall Festival.
Quick aside: I'm really looking forward to the Fall Festival! We saw so many great costumes last year, so I'm excited to see what creative costumes come in the store this time. We hope to see you there this year; you'll be able to see my Calming Swirl Charm and mermaid costume if you attend!
Crafting My Mermaid Charm
Anyway, as I was saying before I interrupted myself, I chose a mermaid theme for my charm. I used purple glitter, added some shimmer dust, stardust (this stuff GLOWS!!), iridescent larger glitter flakes, and a touch of blue diamond glitter flakes.  I'm really happy with how it turned out. I shall call it "mermaid magic."
My first attempt at it wasn't perfect. I had difficulty with the glitter and sequins filler materials.  A good rule of thumb here is, less is NOT MORE. Once a charm is complete, you can't add any additional material!
On my second attempt, I added a lot of the larger glitter flakes, which really helped fill in the bottle and create smaller spaces where the colored glitter and shimmer dust distributed better. The only other complaint I have is with the directions. The kit directions say, "shakes of glitter."  The glitter does not shake out…….IT POURS OUT!  You'll be fine as long as you remember to use the included funnel when crafting your charm.
The Charming Finish
When my charm was 'finished' (according to the directions) it still lacked something in my eyes. I decided to get my box of broken jewelry and add a bit of a personal touch. Pro tip: If you do a lot of arts and crafts, NEVER throw out old jewelry!  After a bit of searching, I found a little something to add some sparkle to my swirl charm.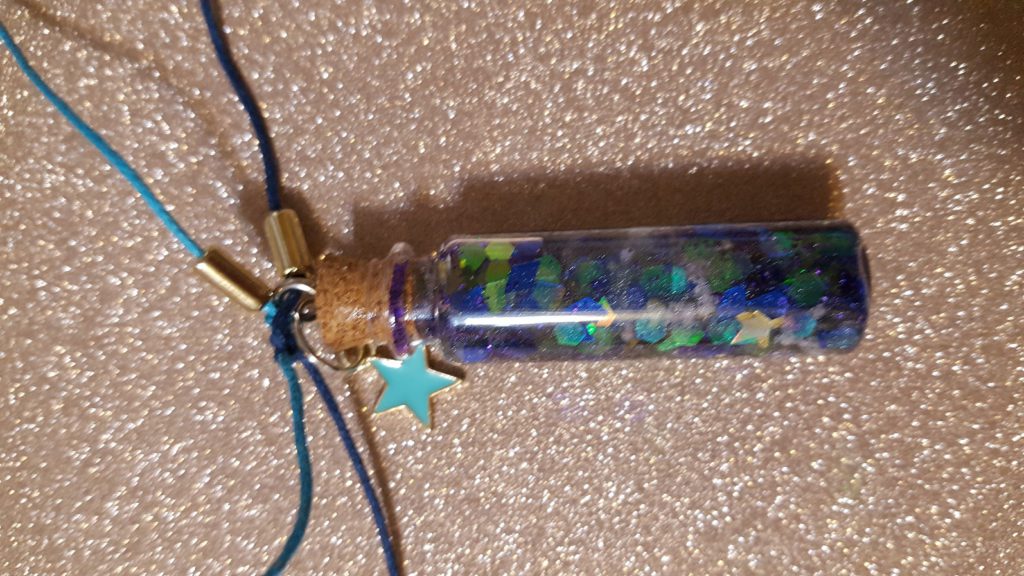 Final verdict: The Creativity for Kids Calming Swirl Charm set is a fun kit. Easy to start and easy clean up to it—both great features for any craft set to have. The kit also includes "recipes" to help create color combinations for your charms. I think my nieces and I are going to have a fantastic time making charms this holiday season!  I definitely see a Swirl Charm Kit under their Christmas Tree this year!