Join the Wet Shaving movement with a great selection of products at Ozzie's
When we moved our family's pharmacy from Downtown Naperville to Naperville Plaza in 2004, we had a basement filled with over 125 years of retail pharmacy odds and ends. One of my favorite finds was an antique battery powered double-edged safety razor. The batter mechanism no longer worked, but it sparked my curiosity in traditional wet shaving techniques.
That was 14 years ago and I'm happy to say a broken, antique safety razor isn't the only option you'll find at Oswald's today! After doing a lot of research online I reached out to Super Safety Razors. Super Safety Razors is a family owned company out of New York that carries a wide array of wet shaving products. They're the exclusive distributor for Parker Razors in the United States. I ended up speaking directly with the owner, Howie Woda. He helped me pick out a great selection of razors, blades and accessories to carry at the store.
Razors
We currently carry a selection of 5 different Parker Brand razors. The major differences in models are how they open to put the blade in (butterfly or three-piece), the safety bar (open or closed comb) and the handle weight. One of Parker's newest models even has a variable setting for the blade angle so you can find your perfect shave!
The first thing you'll notice when holding a Parker razor is the weight – I promise you'll never hold your flimsy cartridge razor the same way! I love a product you can invest in knowing it will last for years to come. The weight not only shows off the razor's sturdy design, it helps apply the perfect amount of pressure when the razor glides smoothly across your skin. As the user, you just guide the razor, no need to apply added pressure.
I recommend watching Matt from the Shave Emporium's video on YouTube if you're new to wet shaving. He gives a great introduction to the practice with some good tips and tricks. Feel free to look around, there's an endless supply of traditional wet shaving enthusiasts making videos on YouTube!
Blades
We carry 5 different blades at Oswald's. Howie from Super Safety Razor said it's great to offer a selection, as dedicated wet shavers all have their say on which brand is best. After experimenting with our selection, my favorite is the Feather brand from Japan. Surprisingly, Howie informed me that these are 'advanced' blades, as some think they are too sharp. Beware!
On top of Feather brand, we carry blades from Treet (Pakistan), Shark (Egypt), and Astra (Russia), as well Wilkinson Sword (Germany), a brand we've carried for years. Quite the diverse group of manufacturing countries!
Brushes & Other Accessories
We currently carry 3 brush styles from Parker – these are a vital part of the wet shaving toolbox! Traditionally made with badger or boars hair, they are also manufactured with synthetic hairs. In the wet shave game, it's all about getting the best lather from your shave soap! I currently use Parker's BLBO brush with a blue wooden handle and boar bristles. It whips up a nice lather but is a little lightweight for my taste. I will be investing in one of our other models in the near future, most likely one that features a durable resin handle to really add some heft!
While you can continue to use canned shaving cream, many wet shaving enthusiasts call it 'canned goo'. While I'm not anti-can shaving cream, using the brush and a nice shave soap is a part of my ideal shave. The shave soaps we carry are all natural; a welcome change to the unpronounceable chemicals in most conventional shaving creams! We carry a variety of fragrances from Taconic, Fine Accoutrements and Williams Mug Shaving Soap—a brand we've carried as long as I can remember.
Additional accessories we carry are after-shaves, beard balms and oils from brands like Taconic, Badger, Rinse, and Clubman Pinaud. One of my favorite accessories is the Parker Apothecary Shave mug. When speaking with Howie of Super Safety Razor, he was very proud of this product. Every Parker shave mug is handmade by one of the last commercial stoneware factories here in America—a welcome addition to any wet shaver's collection!
Let Us Know What You Think
Are you a current wet shaving enthusiasts? Looking to get into the practice? Any product recommendations? I'm excited to grow our current offerings and hear from you – our customers! Feel free to send a message my way at alex@oswaldspharmacy.com
*Image from https://www.flickr.com/photos/51764518@N02/29374587334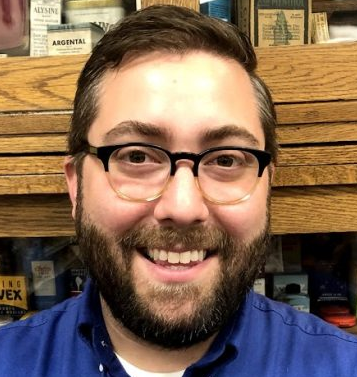 Alex is the current general manager at Oswald's Pharmacy. A 6th generation member of the Wickel-Oswald-Kester-Anderson family, Alex focuses on innovation and taking the business into the future.
With 7 years of working for Whole Foods Market as a Marketing & Community Relations Specialist, Healthy Eating Specialist, and Private Events Coordinator, Alex has a unique perspective on big and small businesses.
Alex graduated with a BA degree from Columbia College Chicago in 2009.
A graduate of Naperville North High School in 2005, Alex has spent most of his life in Naperville and Chicago. He currently lives in Naperville with his wife and 2 children (Oswald's 7th Generation!) and is an active member of the Naperville Jaycees and Little Friends Auxiliary Board.