As our loyal shoppers know, our gift and toy selection is second to none. Our buyer Alecia does a great job of curating quality products you don't find everywhere. We'd like to expand these particular offerings to our home health and food & candy section as well! I'd like to highlight a few new items we brought in at the end of 2017 we think you will really enjoy.
Jane Inc. Products – Handmade in California, this mother and daughter owned company creates exquisite bath tonics, effervescent cubes & vintage bath salts.
Moon Valley Organics – A fantastic line of hand soaps, lotion bars, and medicinal rubs from herbs grown on their very own organic farm in Washington State.
Halter Bon Bons – These sugar free, low carb, low calorie candies made in Switzerland are a real treat. Bill's favorite is the chocolate filled raspberry flavor. We also carry apple, cola, cherry, peach and more.
Organic Hair Care – This product line is owned locally right here in Naperville! Owner Claudia Carmichael created this line to make it easy for families to find safe, natural alternatives for everyday beauty needs.
Good Day Chocolates – These chocolates help promote energy, sleep and calm. Made from all natural, non-GMO pharmaceutical grade nutraceuticals. This a whole new way to enjoy your favorite treat! The question is to locate these near the pharmacy or the candy aisle – both!
Keep an eye throughout the whole store this upcoming year to see what else we'll bring in! We've got plenty of gift and trade shows to attend this year. Always a great way to find new products. We'll be traveling to the Gift Show & Medtrade in Atlanta, VGM Heartland in Iowa, McKesson Ideashare in Las Vegas and the Natural Products Expo East in Baltimore. A busy year indeed! Hope you and yours have a wonderful 2018.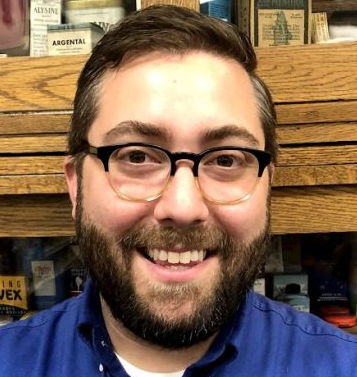 Alex is the current general manager at Oswald's Pharmacy. A 6th generation member of the Wickel-Oswald-Kester-Anderson family, Alex focuses on innovation and taking the business into the future.
With 7 years of working for Whole Foods Market as a Marketing & Community Relations Specialist, Healthy Eating Specialist, and Private Events Coordinator, Alex has a unique perspective on big and small businesses.
Alex graduated with a BA degree from Columbia College Chicago in 2009.
A graduate of Naperville North High School in 2005, Alex has spent most of his life in Naperville and Chicago. He currently lives in Naperville with his wife and 2 children (Oswald's 7th Generation!) and is an active member of the Naperville Jaycees and Little Friends Auxiliary Board.