Rollz Motion Rollator
Product Description
Have you been looking for a good rolling walker that doubles as a transport wheelchair? Good news: The best Rollator / Transport Wheelchair combo on the market has arrived! The Rollz Motion Rollator easily transforms from a rollator into a transport chair. Lightweight and durable, the Motion folds up so it can be transported in any car.
Transforming the Rollz Motion Rollator only takes a few seconds and takes minimal effort. Pull the seat up, flip the handles around, mount the footrests. That's it! Click here for a video.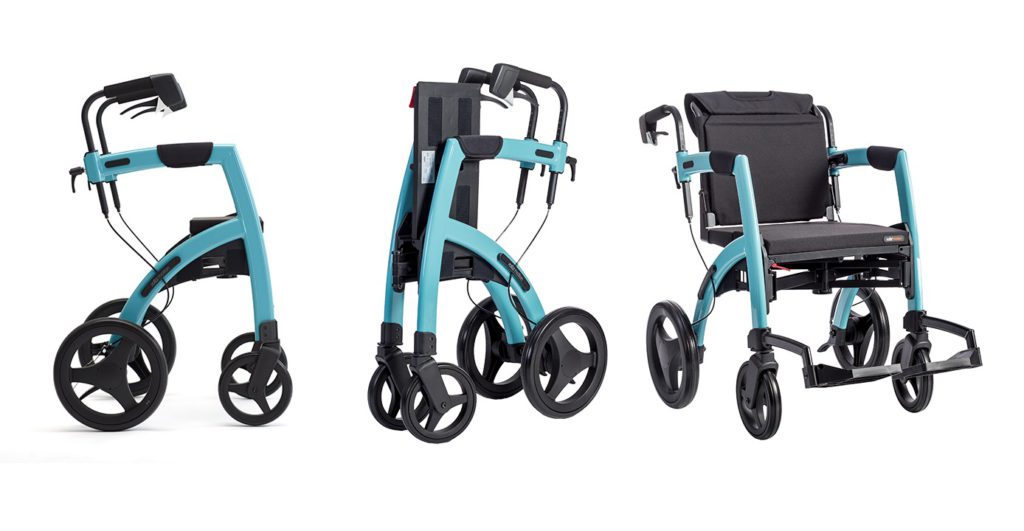 We have the Rollz Motion Rollator in-stock and on the floor, ready for anyone to test out. The Motion is lightyears ahead of any rollator/transport chair combo we've ever had in the store. If you're looking for versatility and quality, you need to check the Motion Rollator out.
Rollz Motion Rollator Specifications
Unit Weight: 23.6 lbs
Rollz Wheelchair Attachment Weight: 8.2 lbs
Total Weight: 31.8 lbs
Weight Capacity: 275 lbs
Recommended User Height Range: 5'3″-6'3″
Unfolded H×B×L: 32″ × 26″ × 25″
Folded H×B×L: 32″ × 12″ × 25″
Seat depth/width: 16.5″ x 17″
Seat height: 20″
Front wheel diameter: 8″
Rear wheel diameter: 12″
Frame Warranty: 5 years
Parts Warranty: 2 years (excludes normal wear & tear)
Additional Resources