Most shoppers today know that it's tough to beat internet pricing. Shoppers also know the main disadvantages of buying online: being unable to try before you buy, bad customer service, or being able to talk to a knowledgeable sales associate.
What if I told you that there are still tons of products that are cheaper to buy at a local store than online? You may not believe me, and that's what this article is about.
There has been a pushback from many manufacturers over the past few years regarding pricing. Large internet vendors like Amazon were demanding pricing that was far to low to cover production costs. Many vendors started to introduce MAP pricing because of this.
What is MAP Pricing?
(note MAP is not the same as MSRP, which is the manufacturer's suggested retail price)
MAP stands for minimum advertised pricing. This means that manufacturers set a price limit that retailers must obey when they advertise. If a retailer refuses to obey a manufacturer's MAP policy, the retailer is usually cut off regarding buying direct from that manufacturer.
Local retailers love the steady adoption of MAP policies. It allows them to compete with online shops without sacrificing labor and a quality shopping experience.
MAP policies didn't solve all the problems manufacturers and retailers were having with online megastores. Many manufacturers and startup businesses have taken some of the ideas behind MAP and taken it to the next level—giving better pricing to local and regional retailers.
Best Prices Not on the Internet
It's tough for small businesses (especially new ones) to turn a profit selling to online retailers. A trend that has been picking up steam recently is manufacturers refusing to sell directly to online shops. Some manufacturers also force online shops to pay more for products that should be hand-sold.
Some great new lines like Stander home healthcare products and Pride's Viva! Atlas lift chairs are unique and only sold directly to brick and mortar stores.
You can find almost any brand for sale online but all the brands that only sell directly to local retailers are more expensive online. This is because they are being sold secondhand. Even locally-produced lines can be found online. Local painters and potters who do large print runs could sell a bunch of items to a person who only intends to resell them online.
If there is a popular new brand that is only sold locally, there is a 100% chance that someone will buy from a local store and sell online. This is why you should always check to see if the hot new line you want a product from is available locally. It could save you money and time!
Shop Local and Don't Look Back
On top of having better prices for many new brand name products, local retailers have another big advantage over online megastores: curation!
Local businesses are in-tune with their audience in a way that is tough to replicate through algorithms and Facebook data. Many local shops have buyers who have been catering to their home audience for years. This enables a real-life version of the 'because you liked x you may like x' that is put together by a real person!
The increasing presence of 'only sold in-store' brands has given local retailers a chance to fill their stores with great lines their customers can't find (affordably) online. On top of this, MAP pricing gives these same local retailers pricing on big brand names that will match the best prices online.
Try Before You Buy
Two of the most common complaints about shopping online in my experience are the inability to see an item before purchase and not having an employee to answer questions. The other complaint I mentioned (customer service) would take another whole article to write about!
Trying certain products before you buy them is absolutely crucial. Categories like medical equipment, designer clothing, new appliances—even scented candles—have products that are tough to evaluate solely through pictures.
Seeing and feeling a specific product in person is necessary to evaluate the value when it comes to expensive products. Buying the wrong wheelchair can lead to expensive return fees, restocking fees, or an unusable, unreturnable item that just set you back hundreds (or even thousands) of dollars. You could read a hundred reviews of a specific lift chair to get an idea of how it feels but sitting in one for thirty seconds will give you all the information you need.
On top of trying a new product before you buy it, local retailers have another huge advantage over online shops: knowledgeable salespeople. If you buy a product from Walmart or Amazon and need help with it, good luck finding someone to help over the phone. If it's a manufacturer-related problem, an online retailer may just pass the buck and tell you to call the original company!
Seeing a product in-person and being able to ask questions about that product will beat any online shopping experience.
MAP + Lower Prices + In-Store Experience = Shop Local!
I know a lot of people (friends of mine included) only look at prices. Well, when those prices are identical (or better) in-person and online, why wouldn't you shop at a local store?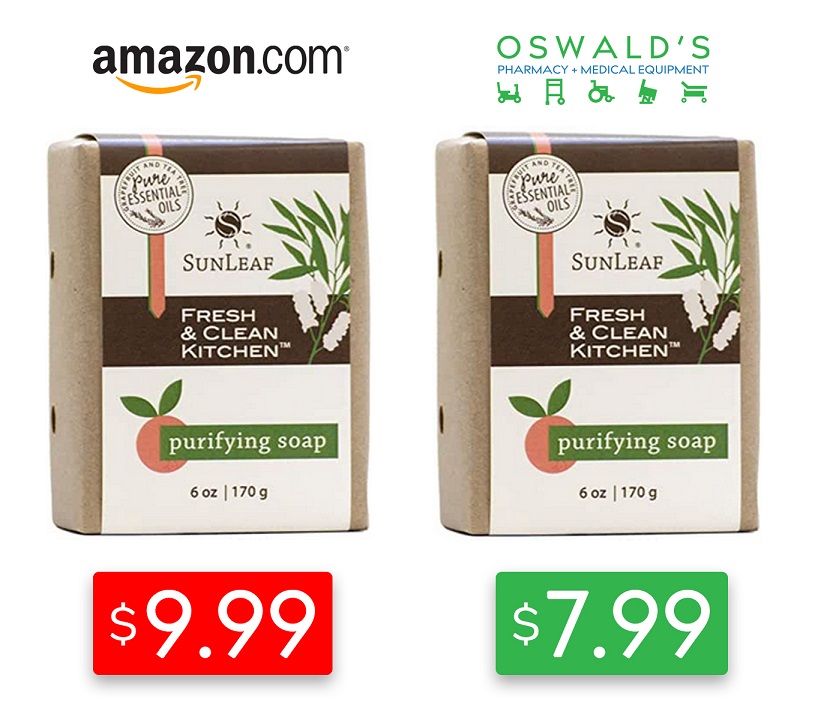 On top of everything outlined in this article, spending money locally puts money back into your community. Buying everything from Walmart puts zero dollars back into your community. The positives far outweigh the negatives when it comes to the online vs. local debate right now. So the next time you need an item from a nationally recognized brand (say, Duke Cannon Soaps), check the selection at your local businesses first!
So, the next time you read about a new brand or product, think about your local gift shop or clothing store before going right to Amazon. You will be surprised by both the pricing and service offered by most local businesses!
Pricing at Oswald's Pharmacy
This article was inspired by some of the great lines we carry here at Oswald's. We noticed that many of the more 'homebrew'- or 'artisan'-type products were cheaper at our store than online.
Items like Michel Design Works soaps, Park Men's Grooming razors, Sunleaf Naturals—even Maple Landmark Name Trains—were cheaper at our store than anywhere online. This never happens! The more we looked into it, the more it became apparent that this was a trend. We support all local business—and things like great pricing at any local business needs to be common knowledge.
If you have any questions or comments, send us an email or give us a call. Or you could just stop by the store… we'd love to show you what you're missing out on!