Pride Mobility's VivaLift! lift chair line was released near the end of 2018. The Viva series has grown into a line of 10 chairs as of September 2019. You may be thinking "10 chairs, so what. How are these chairs special?" Well, the VivaLift! line was designed from the ground up after looking at years of customer feedback.
The feedback Pride looked at included wishes for more comfort, modern designs, higher quality materials, and modern-day features. What resulted from building chairs based on feedback is a 21st-century chair line that has a model for just about anyone.
VivaLift! chairs come standard with six signature features, are ready to order in dozens of colors, and are very reasonably priced. What features? Which colors? How cheap? Well, let's take a closer look.
The VivaLift! Series
Here's a quick list of the Pride Viva series features, followed by a list of available fabrics. If you want to read about Oswald's favorite VivaLift! models, skip to the next section.
Signature VivaLift! Features
Every VivaLift! chair has the following features:
Power Headrest – Adjust head and neck support to any position
Power Lumbar Support – Find the perfect setting for back support
USB Charger – Charge your devices from a USB port located on the chair remote
Lithium Battery Backup – No more 9-volt batteries—Viva series chairs are ready for anything!
Footrest Extension – Give your feet some extra room without hanging off the footrest
Power Backrest – Adjust the back of the chair to your favorite position
Pride VivaLift! Fabrics
Pride developed several new fabric styles for the VivaLift! line. The fabrics chose are mostly neutral tones that are soft to the touch.
Every single VivaLift! chair style is a Quick Ship option, meaning Pride has them ready to ship shortly after you order. No more 2-5 week wait periods for your custom chair!
Stonewash Fabrics

The stonewash fabric styles may look like they are rough, but they are blanket soft. Made of 100% polyester, the stonewash styles have classic looks with a modern feel.
Badlands Fabrics
A 98% polyester, 2% polyurethane blend, the Badlands fabrics sacrifice a bit of softness for more durability. From young grandchildren to pets, this fabric style is a great choice for active households.
Picasso Fabrics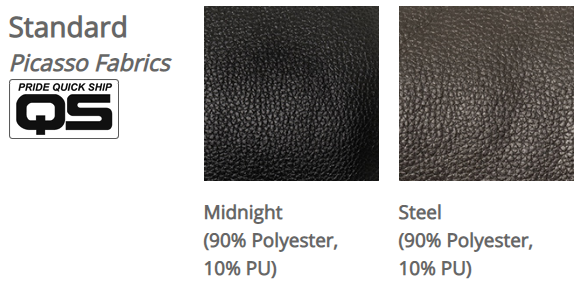 If you need even more durability in your fabric, the Picasso line is right up your alley. Composed of 90% polyester and 10% polyurethane, the Picasso fabrics look like a color their namesake would use and hold up like some of his famed pieces.
Durasoft Fabrics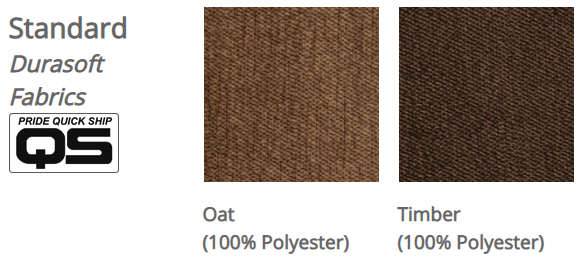 With a name like Durasoft, you know this fabric style has a nice feel. Another 100% polyester fabric, the Durasoft line has two colors that look nice and feel even better.
Ultraleather Fabrics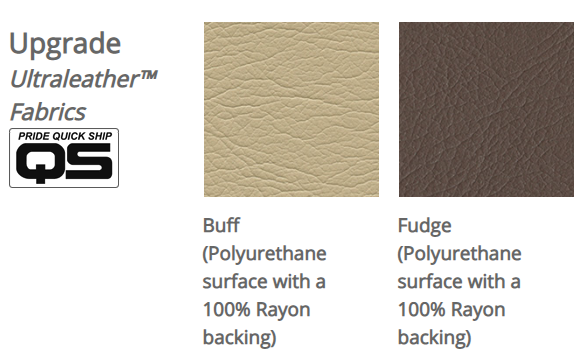 The feel of leather with the durability of polyurethane. Pride's Ultraleather fabric is 100% Rayon, with a polyurethane surface coat. Ultraleather can withstand some punishment but feels like your favorite jacket.
Saville Fabrics

A 100% polyester fabric with a contemporary style. The Saville line has a modern look with a classic feel. If you're looking for comfort and contemporary style, the Saville fabric style is for you.
Merino Fabrics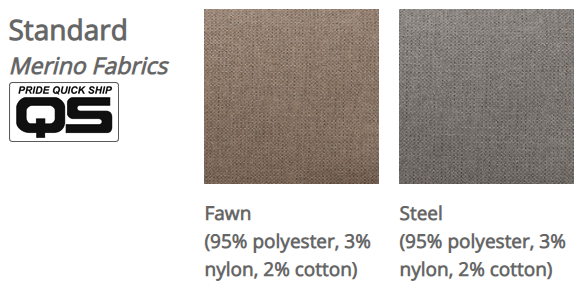 Pride's Merino fabric line is a blend of 95% polyester, 3% nylon, and 2% cotton. This fabric blend has a classic furniture feel—fairly soft, yet fairly durable.
Here's a list of the colors the specific chairs come in (click the name to read more).
The Benefits of the Pride VivaLift! Lift Chair Line
Pride knows that many have settled for a lift chair they didn't really like in the past due to build times. VivaLift! chairs are ready to order, meaning that when your chair will arrive shortly after you choose it. And this is not just chairs that stores have in-stock. This means any chair in the line!
The signature VivaLift! features are a 'greatest hits' list of lift chair features. Pride listened to customers, looked at sales, and talked to vendors to find a balance of features everyone can use. Every VivaLift! chair havs six of the most common 'add-on' features standard—no add-ons necessary.
The VivaLift! lift chair line is a ready-to-order line that has enough customization for everyone. With ten models to choose from, anyone can find the perfect lift chair and get it on time.
Pride VivaLift! Lift Chair Pricing
Each model in the VivaLift! line is different priced. The prices range from $999-$1499. Click here for a list of the models and individual pricing.
Please note that size changes (small, medium, large etc.), ultraleather fabrics, warranty extensions, and delivery options can change pricing. The six signature features, however, are available on every chair and don't cost extra!
Try a Pride VivaLift! Lift Chair In-Store Today
If you are looking for a lift chair with comfort and function all in one package, a VivaLift may be just what you need. We are open 7 days a week and have over two dozen lift chairs on the floor. The best way to find the perfect lift chair is to try it out in person.
If you have any questions, please don't hesitate to give us a call or send us an email. One of Medical Equipment Showroom team members can help you with any and all of your lift chair (and other home medical equipment) questions.