Many of the worst falls seniors experience happen at home. Nearly 1 in 5 of these falls results in serious injuries like broken bones or a head injury. Even worse, around 47% of seniors who fall cannot get up without assistance!
Falls at home can be prevented—you just need to add a few inexpensive products to 'dangerous' areas in your home. 'Dangerous' areas include bathrooms, rooms with hardwood floors, stairways, and the garage.
We have created an infographic for easy reference when you start the process of preventing slips and falls at home. Read on after the infographic for a text summary with links.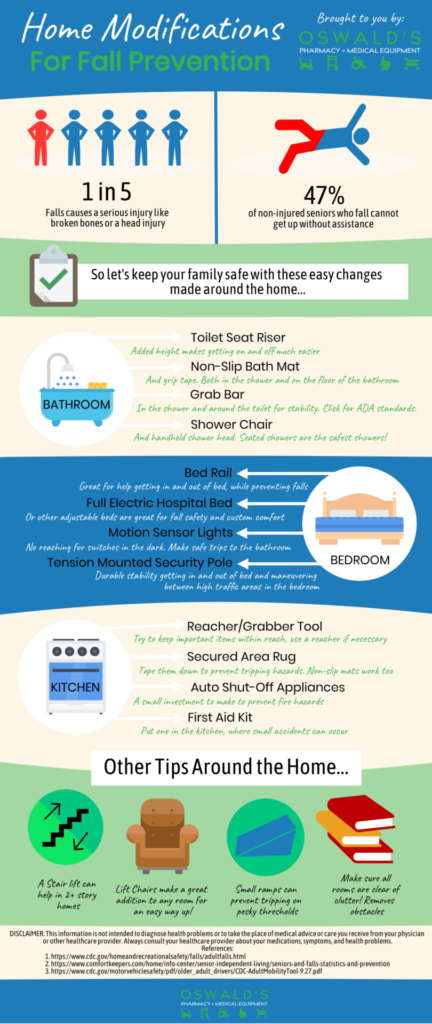 Products that Help Prevent Falls in the Bathroom
Toilet seat risers raise the height of the seat by 2-5", allowing users to easily sit down and get up. The safest versions of toilet seat risers have handles or armrests for added safety. Raised toilet seats and risers are perfect for toilets without a vanity or any handholds nearby.
Non-slip bath mats can go in any shower or tub, giving users some much needed traction while bathing. Many non-slip bath mats can be placed on bathroom floors. Tile floors are very slippery and non-slip mats can help get rid of problem areas.
Grab bars can be installed in any wall—even through tile (with professional help)—putting hand rails where you need them. The shower and tub are the usual spots for grab bars, but they can also be put near the toilet or a vanity. Suction cup versions are available for travel (we don't recommend these for regular use).
Shower chairs allow users to sit in the shower after surgery or for anyone with balance issues. Shower chairs come in many styles, many with armrests for comfort and help getting up.
Products that Help Prevent Falls in the Bedroom
Bed rails serve many purposes and are easy to install. Anyone who has difficulty getting in or out of bed should look at a bed rail to help. Longer or adjustable bed rails can be used for stability and prevent falling out of bed during the night.
Electric hospital beds aren't just for hospitals. They are called 'hospital' beds because they can be adjusted at the touch of a button, making it easy for users to get in, out, or comfortable. Many styles and mattresses are available. Always make sure you find a mattress the user will be comfortable on!
Motion sensor lights are a cheap and easy solution for anyone who gets up at night. Finding a light switch in the dark can be hard, a problem that motion sensors solve. Place the motion sensing lights anywhere you'd like. A great place for them is around a light switch or lamp—make it easy to light up the whole room!
Tension-mounted security poles are a fantastic solution for large rooms. Think of tension-mounted security poles as grab bars that can go anywhere. A security pole has several hand grips and can be put anywhere in any room with a ceiling height 10' and under.
Products to Help Seniors in the Kitchen
Reachers and grabbers are tools that allow users to reach high shelves or low cabinets without straining themselves. Remember to always keep regular use or important items in easy to reach places. Reachers shouldn't be used for every situation but having the option can prevent strains and falls.
Secured area rugs are a must for kitchens with smooth hardwood floors. No-slip mats work as well. Having a rug that has no chance of slipping can prevent many falls a 'slippery' rug would not. If your current kitchen rug moves, it's time to check out a secured area rug.
Auto shut-off appliances are a small price to pay for preventing a fire. If you or a loved one have any memory-related issues, auto shut-off appliances are a must.
First aid kits should always be in an easy-to-reach spot in the kitchen. This is an important item—make sure you don't need a grabber to get to it! Ask your doctor or pharmacist what items you should have in your first aid kit. Band aids are great, but if you have any special conditions, be ready.
A Few Tips to Avoid Falls Around the Home
If your bedroom is upstairs and you have a lot of trouble going up or down, a stair lift could be a great investment. A small fraction of the cost of a home remodel, stair lifts let the user sit in a chair that carries them up.
Lift chairs and power lift recliners are a must-have for anyone that has difficulty getting out of chairs. The ability to lift users out of the chair helps conserve energy for more important tasks.
Small ramps and threshold rugs can make annoying 'bumps' in your home disappear. If you use a walker in your home you know the 'bumps' I'm talking about. Get rid of these problem zones with a ramp or threshold rug.
Final tip: Keep a tidy house! Clutter creates unnecessary obstacles. Keeping up with minor housekeeping every week can save you from falls down the road.
Questions? Call Our Medical Equipment Team!
Our team has been trained on the use of every piece of equipment mentioned in this article and much more. If you have a specific problem or a problem area in your home that needs addressing, don't hesitate to give us a call or shoot us an email. We're happy to help. We're also open 7 days a week. Stop by any time to start transforming your home into a fall-free zone!
Additional Resources
What to do if You Experience a Slip & Fall Accident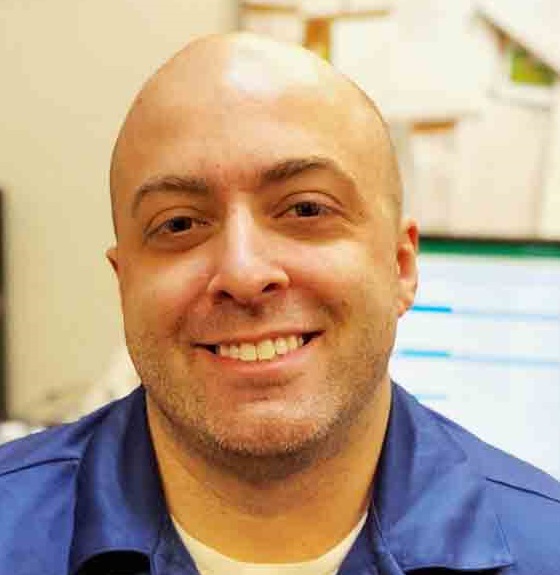 Wil has been working for Oswald's since 1994. A 6th generation member of the Wickel-Oswald-Kester-Anderson family, Wil focuses on web development, inventory, and sales.
With over 10 years of experience selling durable and home medical equipment, Wil is an expert on helping people find what they need to use after major surgery or an accident.
Wil graduated with a BA in English Literature from Knox College in 2008, minoring in History.
A graduate of Naperville North High School in 2004, Wil is a lifelong Naperville resident and is currently a columnist for Positively Naperville.