Medical supplies and equipment can be difficult to find when you're in a hurry. Online shopping has made finding specific items easy, but these items can't always be shipped quickly. If you need a specific item yesterday, what are your options?
The answer to this question: Shop local! Local small businesses are more likely to stock specialized items than big chain, big box superstores. Medical equipment and supply stores have carefully curated selections that are stocked to cater to customers on a time frame.
What Home Medical Equipment and Supply Stores Have in Stock
What comes to mind when you think medical equipment store? Wheelchairs? Hospital beds? Wound care products? It's all of those and much more.
A good medical supply store will have a great selection of post-op and post-surgery aids on-hand. Getting discharged from the hospital is a stressful time, especially if you don't have everything you need at home. We make it easy by always stocking useful aids to daily living.
Wheelchairs, walkers, rolling walkers, hospital beds, power lift recliners, scooters and more should be available to test. Our Medical Equipment Showroom floor is jam-packed with products to test. We want to make sure our customers leave with an option that fits their needs. The medical industry is not one-size-fits-all.
Replacement parts, accessories, and alternatives need to be available. Many customers simply need a part for their creaky wheelchair. Our medical supply stock includes many commonly lost or broken parts and accessories. Our trained repair staff can even help you install tricky replacement parts!
Get Help from a Professional Staff
A great medical equipment supplier should have a staff that knows its stuff. Our everyday staff includes certified compression hosiery fitters, certified scooter and lift chair technicians, and salespeople trained by representatives from some of our top-selling brands.
Our staff takes their job seriously, a job where the ultimate goal is helping you. Not upselling you or pushing you to buy a more expensive option. We want to get you what you need the first time you stop by to shop. If you require a specialty item, we will order it and let you know when it's in. We can even deliver large items and set them up in your home. Training on using in-home delivery items is standard!
The Oswald's Way
We keep secure records of all of our customer's past purchases. No PHI or health information is stored, just records of what you bought. This allows our salespeople to quickly replace any items you have need of again, or fix a broken unit without having to guess on the part number.
Every mobility product we sell leaves the store with an Oswald's sticker and Oswald's serial number. This sticker/serial number combo allows us to look up your purchase quickly and has our contact information on it. You have our phone number with you at all times—call us if you need help with your mobility unit!
Competitive Pricing
Look, no one can beat the internet's pricing. Even Amazon will have higher prices than random sellers on eBay. A great medical equipment brick-and-mortar storefront should have competitive pricing. We match the internet whenever possible and beat the internet giants in one area almost every time…deliveries!
Internet vendors seemingly always offer 'free shipping' on large medical orders like power lift recliners and scooters. If you read the fine print, however, you will notice this only covers 'curbside' delivery. What is curbside delivery? Exactly what the title suggests; the delivery man will unload the box at your curb, end of delivery.
Our delivery prices always include in-home delivery AND installation. Internet retailers offer 'white glove' services that cover delivery and setup, but who is delivering and setting up your product? A contractor, most likely. "White glove" services can often take longer to arrange, as there are only so many contractors in a given area.
We always offer white glove. It's included in our delivery fee! 2 blocks away or 20 miles away?—you're going to get the same, great, in-home service, from a family business you can trust.
Talk to Us Anytime!
Our Medical Equipment Showroom is open 7 days a week. We always have trained staff on-hand. If you have a specialized question and we don't have the answer, we will get it for you as soon as possible. If a particular team member doesn't have an answer we can contact a manufacturer for you.
At the end of the day we just want to make sure you get the product you or your loved ones need. Our mission is to help our customers get back to a normal lifestyle as soon as possible. No sleazy sales tactics. No hassles. We're here to help you!
Give us a call, shoot us an email, or just stop by the store 7 days a week!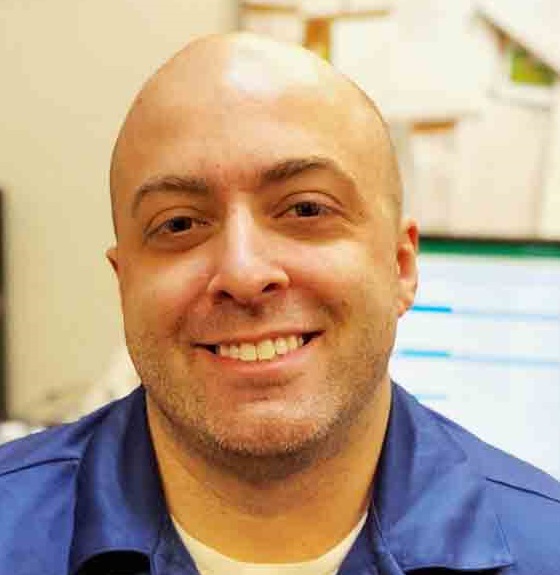 Wil has been working for Oswald's since 1994. A 6th generation member of the Wickel-Oswald-Kester-Anderson family, Wil focuses on web development, inventory, and sales.
With over 10 years of experience selling durable and home medical equipment, Wil is an expert on helping people find what they need to use after major surgery or an accident.
Wil graduated with a BA in English Literature from Knox College in 2008, minoring in History.
A graduate of Naperville North High School in 2004, Wil is a lifelong Naperville resident and is currently a columnist for Positively Naperville.