The UPWalker Standing Walker: The First Fully-Realized Upright Posture Walker
For many people with mobility needs, a standard walker doesn't cut it. Whether it's having just 2 wheels or having nowhere to lean on when you need a break, standard walkers are not the best choice for most people. Rolling walkers or rollators are a better option for many in need of mobility assistance, but they are limited in size and are difficult to use for people with dexterity or balance issues. Where can you look if traditional walkers or rollators don't work for you? Check out the UPWalker Standing Walker.
Designed to offer the mobility of a rollator with the reliability of a standard walker, the UPWalker offers a solution to individuals with unique needs. Slouching and leaning are two common problems most rollator or walker users experience. The UPWalker eliminates this with built-in forearm support handles. The UPWalker doesn't just say it's OK to put a lot of weight on it–it encourages it.
UPWalker Features
The UPWalker is recommended for users between 4'6″ and 5'10", and is adjustable to any height in that range. The armrest handles are individually adjustable, allowing users with special needs to customize arm height on each side. Arms adjust from 33″ to 45″ off the ground.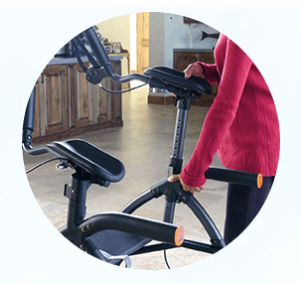 Locking brakes come standard and offer customizable positioning. The UPWalker handles and brakes can be tilted at an angle, offering users a way to actually set handle positions they way they like it.
User weight limit is set at 300 lbs. with a seat width of 18″. The total width of an open UPWalker is 23.5″, allowing it to easily fit through most doorways. The seat has sit-to-stand handles included on both sides, making it easy to get up. A backrest is included which allows users to lean back while they use the seat.
Wheels on the UPWalker Standing Walker are 8″, allowing for easy threshold transferring and smooth outdoor trips. The UPWalker wheels are made of soft, high-quality rubber, so they never need to be inflated. The UPWalker folds up in the middle until it is just 8.5″ wide, making storage a breeze.
Try the UPWalker in Our Store
The UPWalker was an internet exclusive until recently. A few weeks ago, we got an in-store-visit from the CEO of LifeWalker Mobility. Last week we received our first shipment of UPWalkers, which are on the floor and ready to test. The price of the UPWalker is the same in our store as it is online: $595.00.
Our 5,000 sq ft showroom has dozens of regular rollators and standard walkers on the floor, allowing customers to feel the difference between the UPWalker and 'standard' options.
Our trained staff can set the UPWalker to a recommended height, allowing users to feel the full benefits of the forearm handles. We have many mobility ramp sizes on the floor as well, so if a customer wants to see how the UPWalker feels going up a ramp we can help, no questions.
What Are You Waiting For?
If you have any questions or comments, don't hesitate to send us an email or call the store. If you would like to test an UPWalker Standing Walker, just stop by the store–no appointment required. We have the UPWalker set up and on the floor, ready for you to test drive. If you have been looking for a mobility solution, but have some special needs that make the decision difficult you need to try the UPWalker today! What are you waiting for?
Click here to see the UPWalker in action on Youtube.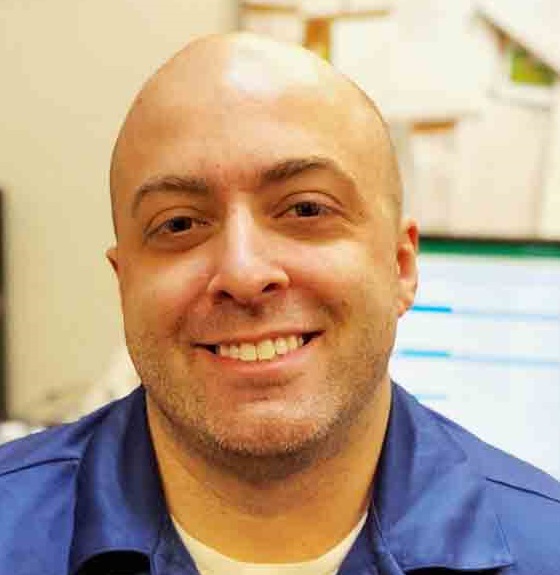 Wil has been working for Oswald's since 1994. A 6th generation member of the Wickel-Oswald-Kester-Anderson family, Wil focuses on web development, inventory, and sales.
With over 10 years of experience selling durable and home medical equipment, Wil is an expert on helping people find what they need to use after major surgery or an accident.
Wil graduated with a BA in English Literature from Knox College in 2008, minoring in History.
A graduate of Naperville North High School in 2004, Wil is a lifelong Naperville resident and is currently a columnist for Positively Naperville.